Make Your Mark as an Esthetician
by
The many ways experts in the field can build confidence in others.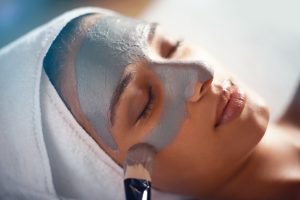 Confidence is a powerful thing. Every day, it affects how people all over the world perform in their schooling, their careers, their relationships, and many other aspects of life.
Much of an individual's confidence comes from knowing he or she is projecting the best possible outward appearance. This is why, when you pursue a career in esthetics, you'll be positioned to have a direct impact on helping people live improved lives.
A career in what?
Esthetics is a profession that focuses on the healthy treatment and beautification of the skin. There's a lot about the skin that most people don't understand, but there's no denying that taking care of your skin can play an important role in your overall health and, again, be a major source of confidence.
Estheticians help people do just that. You'll find them applying their skills in any number of settings, which typically include:
Salons
Day spas
Skin spas
Medi-spas
Health clinics
Dermatology practices
Resorts
It takes a lot of knowledge and training to succeed as an esthetician. There are a number of different types of settings where estheticians find employment. Additionally, they handle a broad range of responsibilities when it comes to treating and educating individuals on proper skin care.
Here are some of the activities you will likely find yourself doing upon entering the field of esthetics:
Acne treatments
Airbrush tanning
Body wraps, masks, scrubs
Chemical peels
Extractions
Facials
Makeup application
Waxing and hair removal
Successful estheticians also may find opportunities as beauty consultants and working in cosmetology marketing.
A key aspect of working in the field is understanding that every person is different, with skin care issues unique to him or her. So it's essential to be able to listen to people's needs and give them the most personalized treatment and guidance.
For example, take a person who has sensitive skin.
This is pretty common. And it's equally important. People who have sensitive skin need to take extra precautions and care when it comes to makeup and skin treatment, and will rely on you as an esthetician for the best advice.
People with sensitive skin often suffer from redness on their face from their daily skin care routine. To avoid redness, it's important that they avoid using bar soaps, abrasive cleansing tools and brushes, skin care products that use alcohol, and products that contain fragrant plant oils or synthetic fragrances.
When it comes to applying makeup, there is also a distinctive set of guidelines for those who have sensitive skin.
First, make sure that whenever you're trying a new product, you test it on a small, out-of-the-way patch of skin such as behind the ear, to see what kind of effect it might have.
Make sure to examine a product's label carefully. This will help you determine if it's been nickel tested, as well as hypoallergenic and dermatologically tested. Also try finding products that are free from fragrances and paraben preservatives, which are two common culprits for causing skin irritation.
Remember to always have moisturizer nearby. Moisturizing your skin at least twice a day will help block common natural irritants like wind and pollution, while also protecting against water loss. And it helps to spray your face with thermal spring water after applying your makeup to make it last longer and protect your skin.
These are in addition to some of the more obvious pieces of advice when it comes to skin care—wash your face twice a day (but don't overdo it), use cleansers that have been formulated for sensitive skin, don't scrub your face hard when cleaning and removing makeup, and make sure to blot dry instead of rubbing.
As a professional esthetician, this is the kind of guidance you'll be able to offer others that can have a very real, positive impact on their daily lives.
Another valuable bit of information about the field of esthetics is that it's growing and the need for educated, well-trained professionals is on the upswing. According to the U.S. Department of Labor, Bureau of Labor Statistics, the need for estheticians nationwide will grow 13 percent between 2016 and 2026. In Pennsylvania, O*NET OnLine projects the need for estheticians to grow 11 percent between 2014 and 2024.
So how do you make your career in esthetics happen?
You need to find a proven, respected, well-rounded program that will deliver the theoretical knowledge and hands-on training it takes to succeed.
Penn Commercial Business/Technical School has been a leading provider of education and training programs for decades, helping individuals like you cross that finish line and embark on empowering new careers.
The Esthetics Program at Penn Commercial offers education and training in the following areas:
Facials
Skin care
Hair removal/waxing
Makeup application
The science of skin care and professional practices
Facial treatments and services and temporary hair removal
Advanced skin care techniques
Professional esthetics and make-up application
State Board preparation for esthetics
The diploma program can be completed in just 12 weeks and is designed to prepare students to sit for the Pennsylvania State Board of Cosmetology Esthetics licensing examination.
Penn Commercial has been educating students at its facility in Washington County for more than 85 years. We're respected by employers throughout the state and region, and provide valuable industry connections to students and graduates.
So if you think a career helping people feel better about themselves fits with your personality, talents, and goals, esthetics could be the ideal path for you.