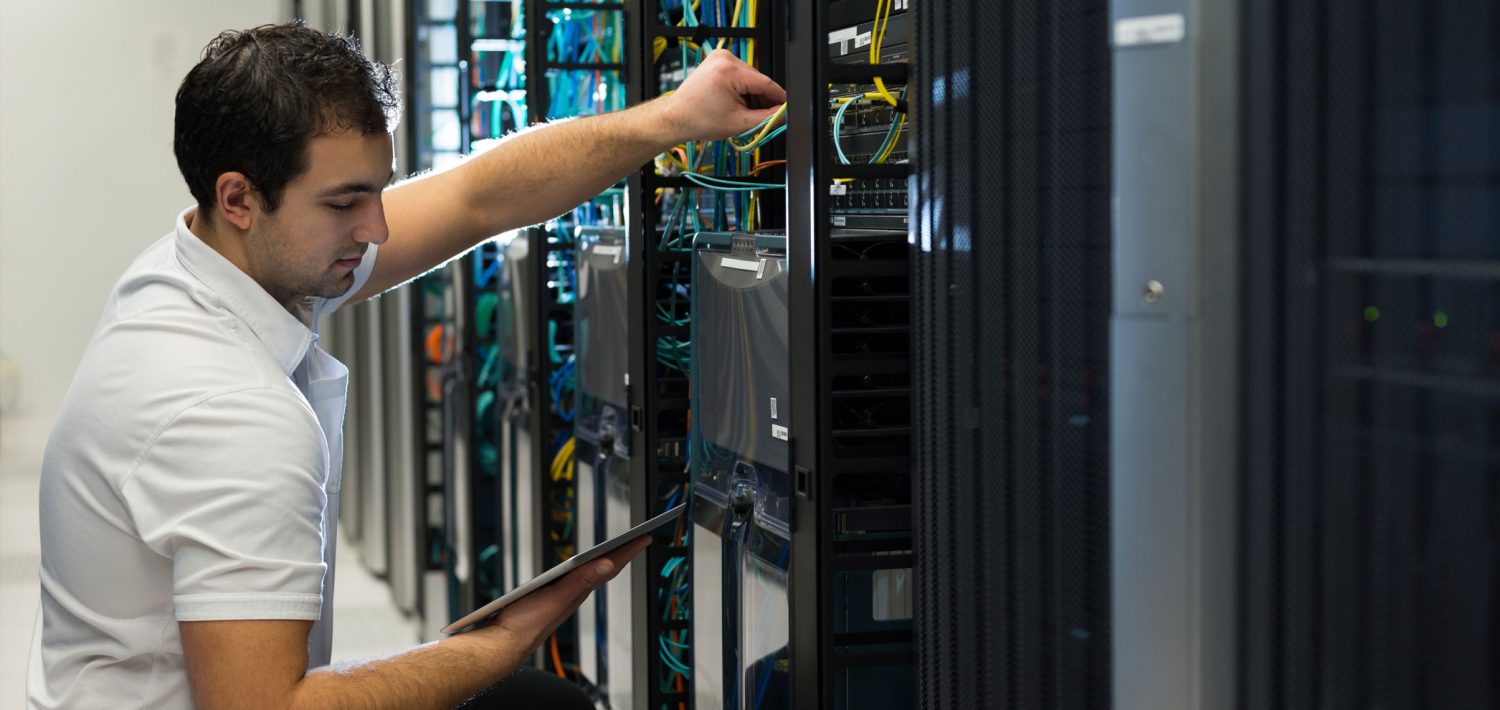 In today's workforce, it is impossible to overstate the significance of computers. Virtually everyone uses a computer, either at home or at an office, to work efficiently. Whether it is running software, printing or communicating within a network, when a problem arises, it takes a knowledgeable and skilled Information Technology (IT) Technician to solve the problem and get things back up and running quickly. That is what our Information Technology and Security program is designed to do: help empower you to succeed in this dynamic, rapidly growing field.
This program has been designed to provide students with comprehensive knowledge about computer systems and networks. At the end of this 18-month program, students will be prepared to assist companies and organizations in maintaining and improving their networking and cyber security.
What You Can Learn
This 18-month program—which awards an Associate in Specialized Business Degree—offers a deep and broad learning experience covering the spectrum of areas necessary to become an IT Technician.
Some of these areas include:
Operating System
PC Architecture, Design, and Implementation
Wireless Technologies
Virtualization Technologies
Advanced A+ Certification
VoIP Technologies
Basic Programming
Introduction to UNIX / Linux
Network Security
Customer Service
How You Can Learn
Building your own computer is an essential part of the Information Technology and Security program—and one of the students' favorite projects. This project will become an integral part of your curriculum and learning experience. Providing all course and financial aid requirements are met, the computer will be yours to keep, and you can proudly show your family and friends the results of your hard work and training.
There is an abundance of technical, hands-on education in the program, in which you will be able to apply classroom theory and explore emerging trends and technology. Your teachers will provide individualized instruction, bringing to the classroom extensive and relevant experience in the networking field.
When You Can Learn
Classes are forming now, so the best way to get started is by calling 724-222-5330 today or stopping by our campus. Our staff can show you our facilities and better explain how our programs work.
Once enrolled, classes are scheduled Monday through Thursday, between 8 a.m. and 4:30 p.m. and externships are scheduled during the sixth and final quarter of the program. Programs at Penn Commercial Business/Technical School are designed that way so you can be well prepared with the necessary knowledge when you start your IT career.
Where You Can Go
At Penn Commercial Business/Technical School, we want our students to feel empowered. We believe that empowerment is the best way to a successful career. When a student is confident and has the preparation and training he or she needs, finding a career gets easier.
There is a great need for IT Technicians in today's workforce. Every company, office, hospital, school, and probably any other facility you can imagine, uses a network system and needs it to be reliable.
For that reason, the job outlook for an IT Technician is very promising. According to O*NET OnLine, the job growth projection for computer network and support specialists from 2014 to 2024 is 8 percent. O*NET also projects that almost 80,000 new jobs are going to be created in the United States during that same period of time.* And according to O*Net, starting wages in Pennsylvania are $37,590 per year and media wages (which reflect years of service) of $59,410.**
Upon graduation, students will be prepared to find placement in different positions, such as:
Active Directory Technician
Exchange Server Technician
Junior Database Administrator
Desktop Support Technician
Computer Repair Technician
Windows Server Technician
Field Service Technician
The mission of our Information Technology and Security program is to prepare students for entry-level positions in the rapidly growing computer-networking field—including client needs assessments, design, installation and maintenance. Penn Commercial also prepares students to sit for the A+ certification examination. At Penn Commercial Business/Technical School, students will have personalized instruction, experienced faculty and academic support.
To help students find the right position after graduation, our alumni and career services can offer a variety of services, like job fairs, career counseling, interviewing workshops, job listings, resume assistance, employment newsletters and externships.
Who Hires Our Grads
Advent Communications
Ansys Inc.
Argo AI
ComDoc
Computer Aid, Inc.
Continuum Managed Services
IntergraOne
Kobuchi's Computers
Penn Commercial
Peter's Township School District
Pittsburgh Computer Solutions
Technical Product & Supply
Vertical Solutions Inc.
VoIP Innovations
Washington County IT
Our alumni network can also be very helpful with your job placement. You can find our former students all around the area working in different industries and achieving success in their professional lives.
"We have been very pleased with the technical base that Penn Commercial has provided to their graduates."
– Bob Pyle Platinum Factory Service
*http://www.onetonline.org/link/summary/15-1142.00
*https://www.onetonline.org/link/summary/15-1152.00