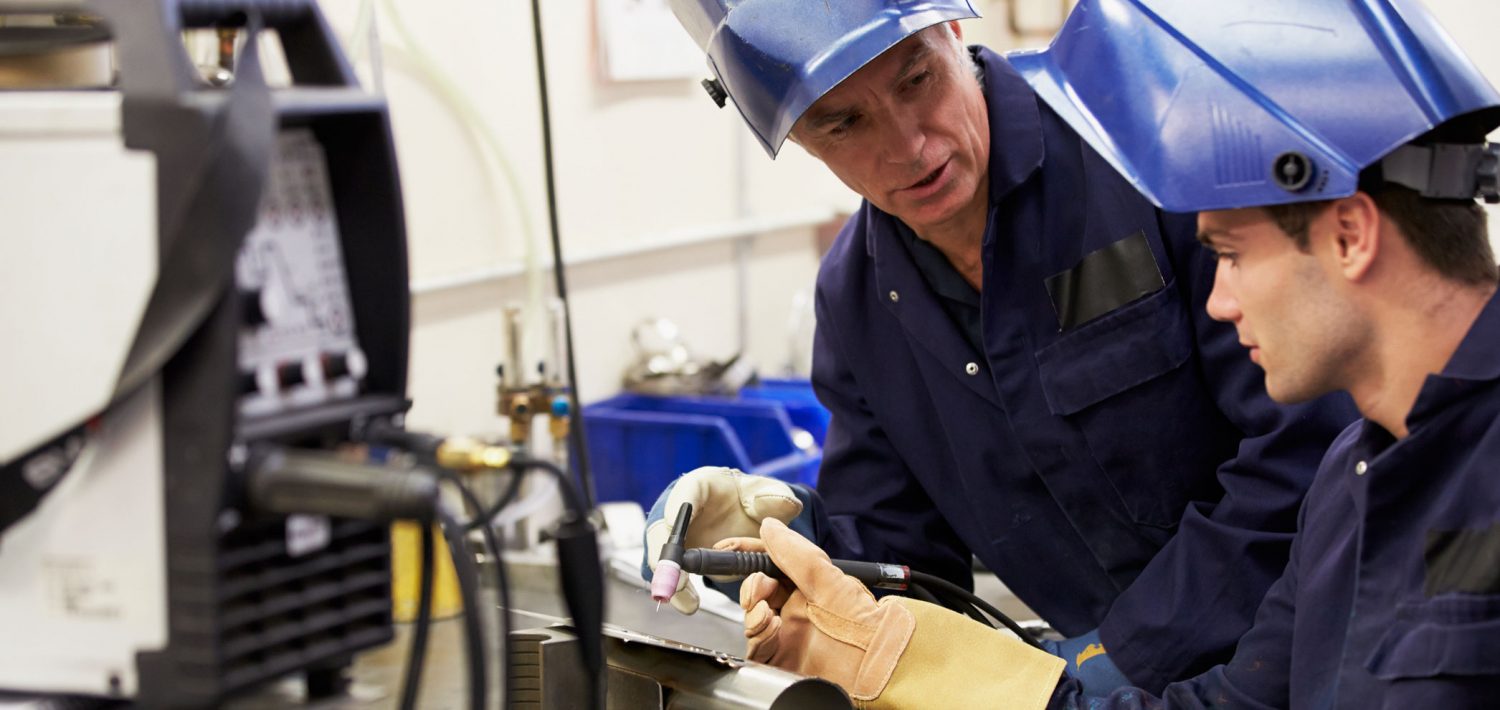 The welding technology program at Penn Commercial serves Southwest Pennsylvania (including the Pittsburgh area) as well as students from Wheeling to Morgantown, West Virginia. Continue reading to learn more about our welding classes, the types of jobs and salaries for welders in the US, and the kinds of welding certification you may test for as part of the program.
Welding Topics & Skills
Welding is not only a specialized skill, it is a career that serves an array of industries and is used in various different ways. Welders need to be up to date with the latest technologies, welding training, and equipment to provide a reliable and outstanding service.
Our welding certification program emphasizes the development of real hands-on skills in layout and fitting. Students also take advantage of Penn Commercial's on-site, modern welding facility.
Our goal is to prepare individuals for employment in the field of welding through extensive exposure to welding practices and principles that build the potential for a rewarding career in a variety of industries.
Our program will test students in three areas: Pipe welding (ASME IX), stick plate welding(AWS D1.1) and flux core welding(AWS D1.1 plate/flux core). Successful completion of these will grant industry qualification.
Welding Program Structure
At Penn Commercial Business/Technical School our welding classes form the core of an 12-month diploma program that will deliver a well-rounded learning experience. Our welding students benefit from the latest equipment, shop and professional instructors.
Some of the areas covered in the program are:
Welding Safety, Tools and Equipment
Blueprint Reading
Pipe Welding
Layout and Fabrication
Gas Metal Arc Welding (GMAW)
Gas Tungsten Arc Welding (GTAW)
Shielded Metal Arc Welding (SMAW)
Our Welding School Philosophy
Penn Commercial's program offers a mix of classroom lessons with hands-on training. Given the nature of the field, an extensive portion of your learning experience will involve hands-on education at Penn Commercial's own on-site welding facility. There you will exercise real-word scenarios in controlled classroom situations.
With a skilled team of teachers to help at all times, you will be learning from experienced welding professionals who will guide you through classes and our cutting-edge modern facility.
Getting Started at our Technical School
Classes are forming now, so the best way to get started is by calling 724-222-5330 today or stopping by our campus. Our staff is ready to provide information about our program and show you our facilities. This program offers both day and evening class options. Day classes meet Monday through Friday between the hours of 8:00 am to 4:00 pm. Evening classes meet Monday through Thursday from 5:30 pm to 9:30 pm.
Welding Jobs, Salaries, and Career Outlook
Penn Commercial Business/Technical School has been proudly empowering students and changing lives since 1929. For us, empowerment is the key to academic and professional success.
Since the basic skills of welding are similar, welders can easily shift from one industry to another, which also means they can choose to relocate anywhere in the country and still successfully find placement. Job prospects for welders trained in the latest technologies are reported to be easy, and our students usually start working soon after graduation.
According to O*NET OnLine, projected growth from 2014 to 2024 is 4%, and there should be over 120,000 job openings in the same period. Welding is one of the few career choices that is in high demand at all times since these skilled professionals are needed in almost every industry. This gives them the flexibility to switch industries without changing careers, which can provide great and diverse experience. Data retrieved from the Bureau of Labor Statistics states that welders held more than 390,000 jobs in 2014.** That's an impressive number in today's competitive job market.
In addition, average earnings for Welders in PA is $18.34 per hour.  – That's 50% more than entry level oil and gas works.
Some career opportunities for welders are in industries such as:
Manufacturing
Specialty Trade Contractors
Repair and Maintenance
Merchant Wholesalers
Construction
As a welding professional, you can work either outdoors and indoors. You may help rebuild bridges, highways and buildings or help with the construction of new power generation facilities and pipelines transporting natural gas and oil. This occupation gives professionals a broad range of options when choosing the type of work conditions or industries they would like to experience.
At Penn Commercial Business/Technical School you will learn every skill necessary to succeed in a welding career through specialized training, the help of skilled professionals and modern facilities. Just search Welding Program near me, and you will easily find out Penn Commercial.
To help students find job placement after graduation, our alumni & career services can offer a variety of services like job fairs, career counseling, interviewing workshops, job listings, resume assistance, employment newsletters and externships.
Our alumni network can also be very helpful. You can find our former Penn Commercial students all around the United States working in different industries and achieving great success in their professional lives.
Additional Program Entrance Requirements
In addition to your high school diploma or GED certificate, entrance to the welding technology program requires the following:
Ability to lift and carry equipment weighing up to 75 pounds
Ability to handle working in very hot and very cold temperatures
Good eyesight and visual acuity for identifying colors, shades and brightness