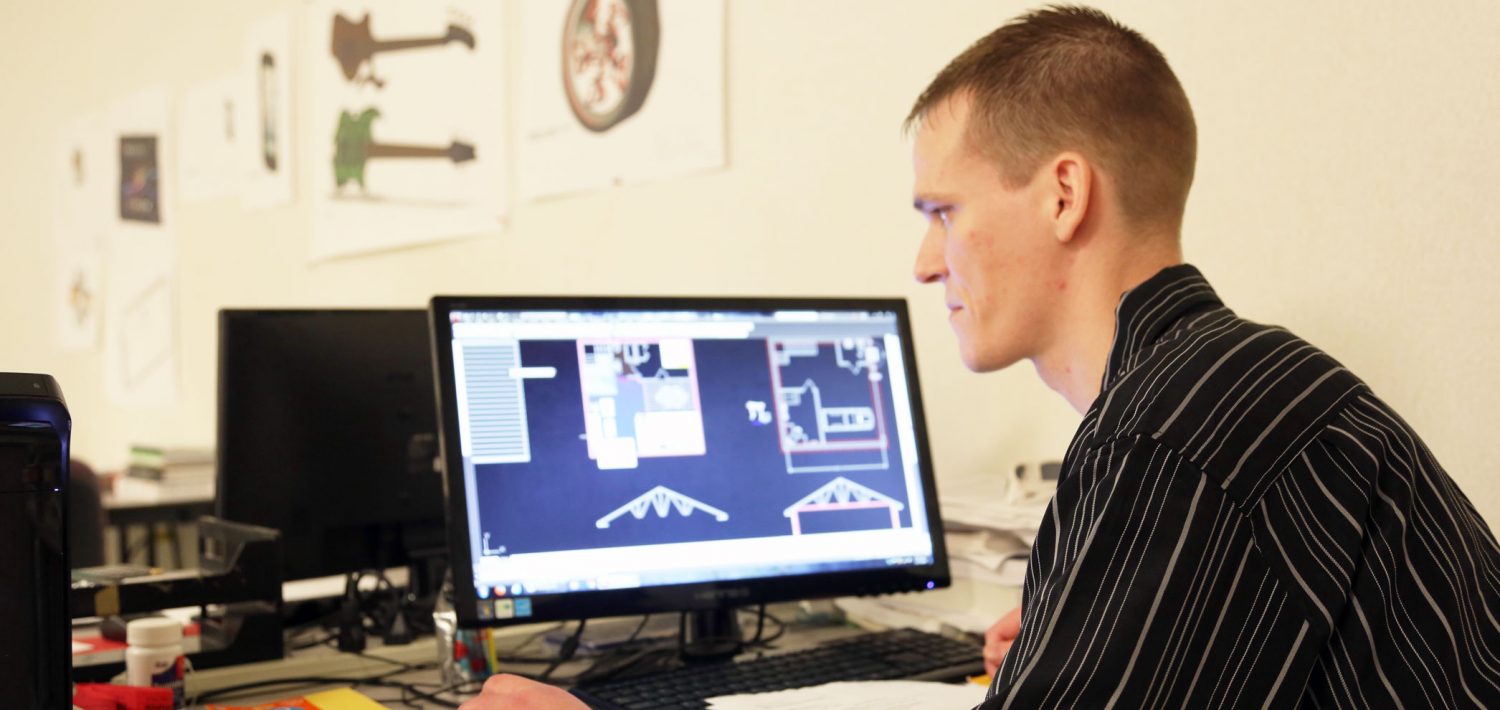 When buildings and machinery are constructed, the first step is the development of a detailed set of drawings and plans. A skilled, computer-aided drafting professional will be the one making those designs and plans happen, converting the drawings made by engineers and architects into technical blueprints. Only the drafter can make this happen.
Our computer-aided drafting and design program offers the knowledge and intensive training to produce computer-assisted drafting (CAD) professionals who know how to get the job done. And how to get it done well.
Penn Commercial's computer-aided drafting and design program will award you an associate degree in specialized technology degree in 18 months, allowing you to launch your career as a CAD professional in less than two years. You will be prepared to work in civil, electrical or mechanical drafting and be instrumental in the design and construction of a number of different things, such as commercial buildings, residential houses, microchips and cars.
What You Can Learn
This 18-month program awards an associate degree in specialized technology degree. It offers a reliable path for you to blend your creative and technical interests.
The computer-aided drafting and design program will include:
Technical Mathematics
Architectural Drafting
Pipe Drafting
Machine Drafting
Structural Drafting
Technical Drafting
Computer-Aided Drafting
Ethics
Communication
Drafters use software like CAD and Enterprise Resource Planning (ERP) to turn the architect's or engineer's views into a detailed plan. As a student in the computer-aided drafting and design program, you will be exposed to the knowledge and skills it takes to help you succeed as a CAD drafter and bring innovative visions to life.
How You Can Learn
Instructors who have spent years working in the field as CAD professionals will guide your classroom and laboratory experience in this program. They know the relevant knowledge and hands-on skills it takes to succeed.
When you start your studies at Penn Commercial, you will receive a laptop computer fully equipped with the necessary software to learn and practice the abilities to be a successful CAD drafter. As you progress through the computer-aided drafting and design program, your software will be updated to keep pace with everything you are learning. You will also complete an externship at the end of your program, in which you will spend time working in a professional CAD setting.
"I'm most satisfied with the fact that it only took 18 months to get a two-year degree."

Ryan Paluda, Draftsman, Miller Centrifugal Casting
When You Can Learn
Classes are forming now, so the best way to get started is by calling 724-222-5330 today or stopping by our campus. Once enrolled, classes are scheduled Monday through Thursday, between 8:00 a.m. and 4:30 p.m., and externships are scheduled during the sixth and final quarter of the program.
Where You Can Go
At Penn Commercial Business/Technical School we believe empowerment is the way to achieve professional goals and successfully enter the workforce. Our programs provide just that to our students. At the end of the computer-aided drafting and design program, you will graduate with the right skills to start your new career.
The job market for CAD drafters has become very competitive in the last few years. However, the market needs more and more specialists with deep software knowledge and endless creativity. Companies are always on the lookout for well-prepared professionals with a wide array of abilities.
Graduates of the computer-aided drafting and design program are prepared for entry-level positions, such as:
Mechanical, Architectural, Piping, Structural, Machine, Civil or Topographical Drafter
Drafting and Design Technician
Mechanical Engineering Assistant
Drafting Designer
CADD Operator/Specialist
Designing plans and drawings from architect or engineer sketches is a typical task for CAD drafters. Professionals also spend most of their time using CAD and other computer software to assist on drawing production.
Some of the tasks you will perform as a CAD drafter are:
Developing drawings for equipment, tools and controls
Designing components and systems
Learning how to analyze and understand specifications and sketches
Full comprehension of mathematical formulas
Thorough comprehension of design techniques and software
Upon your graduation, you will be prepared to work in different offices or manufacturing firms, such as:
Engineering firms
Architectural agencies
Landscape architect companies
Manufacturing companies
Classes at Penn Commercial Business/Technical School are tailored to meet the student's needs and expectations. We do that through personalized instruction, experienced faculty, cutting-edge facilities and academic support.
Who Hires Our Grads
Alliance Consulting, Inc.
CBP Engineering Inc.
Dawood Engineering
IGS Industries
Lighthouse Electric
Lingis Manufacturing
Matrix PDM Engineering
Minerd & Sons
New Millennium Building Systems
United Structures of America
Vulcraft
Our alumni and career services can offer assistance with job fairs, career counseling, interviewing workshops, job listings, resume assistance, employment newsletters and externships. Our alumni network can also be of great help.
*http://www.onetonline.org/link/summary/17-3013.00