Faculty Spotlight: Zach Dean – Welding Technology
by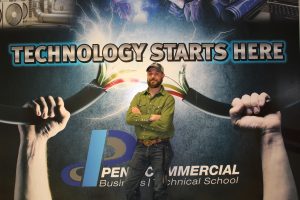 Zach Dean grew up on a farm. In addition to doing the usual farm chores a boy of 10 would do, Dean learned to weld. That was the beginning of what would be a fulfilling – and profitable – career. "We were always welding stuff there on the farm," Dean, an instructor in Penn Commercial's Welding Technology Program, says. "Then I took welding courses in high school." Armed with the basics, he began working as a professional welder. At Caterpillar, Dean says, "I was a team lead. I ran robotic and programmed robotic welders there."
Caterpillar offered a mentorship program for kids from local schools. "We showed them the ins and outs of the fabrication welding world and how it worked, what work in the factory was like," Dean says. The man in charge of Caterpillar's program was a good friend of one of the people in charge of Penn's welding program. "He asked me if I would be interested in coming here [to Penn] to go to work," Dean says, "He knew that I enjoyed teaching those kids. I've been here ever since."
It's been three years, and Zach Dean says he's learning as much from his students as they are from him. "They teach me stuff every day," he says. "There's always a different problem to work through because nobody has the same problems. It's always really challenging." That's understandable, considering that Dean and the other instructors teach the main processes of welding – from safety and blueprints, to SMAW, GMAW, GPAW and more.
Penn Commercial's welding program lasts for a year, which Dean says is beneficial. "They can learn pretty much everything they need to." The training is focused, geared specifically to the welding industry. That means students don't need to take courses that are not necessary, like history or literature – the general education classes that would be required in a four-year school. With small class sizes, usually limited to fewer than 10 students, Penn can offer more personalized instruction. "We can spend a lot of time with them and help them achieve their goals," Dean says.
Students begin their hands-on instruction immediately. "Each class is about a month long, and some classes have an entry and advanced class so they're two months," he says. "We do an advanced layout and fabrication class and have them build something kind of useful for home – like fire pits and some other interesting projects." Individual welding booths simulate the real world so that students get a feel for what it's going to be like when they're actually working. "We'll start making them weld stuff in restricted areas that they can't get to so that way they understand what it would be like to weld something if they couldn't reach everything on it." Dean says that as the program goes on, students are expected to weld longer plates. "We try to get them to where they're welding consistently for 14 to 18 inches of weld, because that's what your typical weld will be in the real world."
By the time students complete their welding instruction, they're ready for entry-level positions. First, though, they need to certify. "We actually do it in house. We have a third-party company come in, and they do all their qualifications," Dean says. "They have an x-ray lab about an hour up the road, so students know within about two or three days whether or not they have passed." For those who pass, the job outlook is promising. "There's always a need for welders in Pennsylvania in this area," Dean says. Companies occasionally come to the school looking for welders. "They say, 'We can't find enough welders that want to come to work.'" According to O*NET Online, Pennsylvania ranks third in the U.S. for welding jobs – behind only Texas and California – and jobs are expected to increase 6 percent through 2026.
If you're considering a welding career, Dean says it's a good idea to try it before making a commitment. "It's not for everybody. It's all about you and how hard you want to work to be able to achieve your goals. It makes a great career." Zach Dean says he has survived very well being a welder his entire life. "As long as you want to put the work in to be a good welder, you can be it."
The welding technology program at Penn Commercial focuses on developing hands-on skills in layout and fitting that prepare you for entry-level positions. You can then take the basic welding practices and principles that you learn in pipe welding (ASME IX), stick plate welding (AWS D1.1),flux core welding (AWS D1.1 plate/flux core), mig welding (GMAW AWS d1.1 plate) and stick on pipe (API 1104 6G) and build on them throughout your career. Your training involves a balance of classroom lessons and hands-on instruction by industry professionals at Penn Commercial's on-site welding facilities. In just one year, you can be ready to go out into the workforce as a professional welder.
Classes are forming now and offer flexible day and evening class options. Call Penn Commercial today and start training for an in-demand welding career.