Why top students are choosing trade school over traditional college.
Raelee Nicholson could have had her pick of prestigious four-year universities. The high school junior from just outside of Pittsburgh is a member of the National Honor Society, is earning A's in her honors classes, and scored very highly on her college board exams.
So naturally, a top-notch private college, an elite public university, or maybe even an Ivy was the next logical step for Nicholson after high school. Right?
Wrong. The stellar student decided that the path she wanted to choose was a trade school to train for a career as a diesel mechanic.
Welcome to the realities of higher education in the year 2018.
Nicholson's story was told in a recent issue of The Wall Street Journal. It obviously turned many heads, and as much as traditional four-year colleges and universities don't want to hear it, it's becoming more and more common.
Of course, to many parents, a decision like this would come as a surprise. But when you step back, throw conventional norms aside, and take a close look at the rationale for choosing a two-year technical or trade school education over that of a traditional four-year, it's a decision that actually makes perfect sense.
The case against traditional colleges and universities…
Four-Year College Costs Continue Rising
Tuition and fees at colleges and universities continue to rise. The rates of those increases have slowed significantly. For example, while in 2009-2010 public four-year institutions on average raised their tuition and fees by 9.5 percent, in 2017-2018 the hike at public four-year schools was just 1.3 percent. However, in 2017-2018 the amount of student grant aid and tax benefits didn't keep pace even with those smaller price increases. So the net prices for full-time students still continue to rise, with this year being the eighth straight year net costs have gone up.
No matter what way you look at it, the cost for your son or daughter to attend a traditional four-year university is outrageous.
"Four-Year" Colleges in Name Only
While "four-year" is the typical way traditional colleges and universities are described, the truth is that students are taking more than four years to earn their undergraduate degree, and many don't graduate at all. Recent statistics show that just over half of the entering freshman class at traditional colleges and universities earn their degree, with many of them taking five or even six years to do it. And more than 40 percent aren't graduating at all. So while the annual net costs of attending continue to rise, the number of years it takes to graduate also is climbing increasing the overall cost of attendance—which means more money out of your family's pocket.
A Mountain of Debt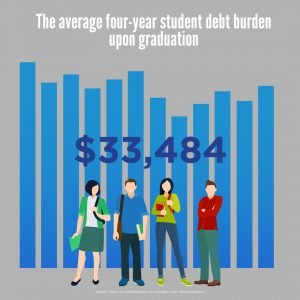 So the result of those key factors is obvious—students leave traditional colleges and universities buried under a mountain of debt. These staggering student loans are another reason a shorter, focused vocational education is so attractive. With a current burden of $1.48 trillion spread amongst 44.2 million Americans, student debt has reached an all-time high. The average four-year student carries a burden of $33,484 in debt upon graduation, paying a little over $351 a month, for 10 years. And 20 percent of four-year degree grads owe more than $50,000.
The case for a trade school program…
Focused Education and Training
While students at four-year colleges and universities pay big money to attend classes that have nothing to do with their majors, trade school students take only the courses they need to enter their career field of choice. And trade schools are constantly re-evaluating their program curriculum, working directly with business and industry to ensure students are gaining the most relevant knowledge and skills that can be applied to day-one after graduation.
Getting Into Careers Faster
A key benefit of the focused education and training that trade schools offer is the accelerated nature of the learning experience. No unnecessary courses. No time wasted. That means your son or daughter can get out into the professional world and start earning what they deserve in a fraction of the time it would take if they attended a traditional college or university. At Penn Commercial Business/Technical School in Washington County, some of its trade and technical programs can be completed in as little as nine months.
High-Growth Professions and Career Fields
Trade schools are focused on offering programs in career fields that are projected to have a high need for employees well into the future. Good examples of this include HVAC Technicians and Electricians.  Both are projected to be in high demand through 2024 with excellent earnings. And although entry-level wages will be much lower than the median salaries quoted below—by the time your student's friends finish traditional college after six years, and with thousands in debt, your son or daughter could easily be commanding the median wages reported below.
So what's your son or daughter's best next step after high school?
A place where they can finish fast. Position themselves to earn good money. And avoid racking up a mountain of student loan debt.
For many parents in your shoes, the answer has been Penn Commercial.
With several programs that can be completed in 18 months or less and are designed to prepare students for excellent earnings upon completion, Penn Commercial has been meeting the needs of students and families in Pennsylvania for more than 85 years.
Programs include:
Computer Aided Drafting & Design
Electrician
HVAC-R
Network Administrator
Welding Technology
Medical Assistant
Medical Billing & Coding
Medical Office Administration
Pharmacy Technician
Practical Nursing
Business Office Administration
Spa & Salon
You've seen the research. There's no denying the reality that it is, in fact, a brave new world when it comes to higher education. A world where students have a viable, logical path toward rewarding careers that don't involve the wasted time and money of four-year colleges and universities.
At Penn Commercial, that's the accelerated path we help students like yours navigate on the way to successful careers every day.