Trent Booza graduated from Penn Commercial Business/Technical School in June 2016. He completed the Computer-Aided Drafting and Design (CAD) program and graduated with his associate's in specialized technology. "I kind of had made up my mind that I was coming. Penn Commercial is local to where I'm at and I know people in the past who went there. It had a good reputation." Trent completed the program in just 18 months, adding a valuable credential to his already vast professional experience.
Prior to attending Penn Commercial, Trent obtained an entry-level drafting certification. With that, he pursued a career as a draftsman and worked for the same company for 14 years. Unfortunately, his employer cut his position, leaving Trent to figure out his next move. Performing martial arts has been a passion of his for the last 20 years, as well as teaching it for the last 15 years, so that is what he decided to focus on in the interim. For four years Trent taught martial arts full time. Eventually, however, he realized that "I didn't like the up and down of the income and business process. So, I decided to go back to school to get more education and finish another degree. I wanted to get more up-to-date training to get a better job." It was at this point Trent made the commitment to pursue his education at Penn Commercial.
In regards to his experience with Penn Commercial, Trent explained, "It's a good school. The teachers were cool and always there. I got a lot of support from the teachers." His favorite classes were the ones focused on architectural components. "They related more to what I am doing now. That's where I had my interest at." Staying focused on, and dedicated to, his interests and studies has paid off. The last three months of his program were completed through an externship at Lighthouse Electric, Inc., which turned into a full-time position. Because of his knowledge, professionalism and work ethic, the company hired him right after graduation. Penn Commercial's Career Services department offers to help their students find a job if they need assistance, but thankfully for Trent, he already found a natural fit.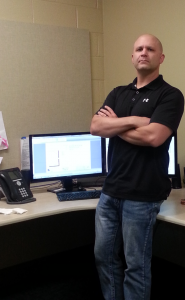 Trent currently works as a lead virtual design construction specialist. He is in charge of two projects right now in which he leads the coordination meetings for his company, works closely with the other tradesmen of partner companies and collaborates with the project manager. "It's a wide range that I get to do. The architectural background I have is what we do on the job, dealing with all kinds of trades – plumbing, HVAC. We have to know the structures of the building – that's where my background comes into play." The company mainly does commercial work, focusing on electrical. When asked what the best thing about his new career was, without hesitation Trent replied, "The people I work with. I came into a field that was something I wasn't very used to – the electrical industry. They took me under their wing. I get to work with veteran people who have been in the field." With new experiences comes a learning curve, but Trent gratefully explained that "they help me if I have questions and help me through the situation. They make you understand what is going on. The people I work with at Lighthouse have been extremely valuable to me."
Moving forward Trent plans on going back to further his education, potentially expanding his credentials to include electrical engineer. He is certain that throughout the years to come he will continue taking classes and hopes to work his way up through the company, possibly as a project manager someday. "My life was good before, it's better now. I have a more steady income and more places to grow within the company, which is what I am looking forward to." Trent is at a great place, happy and successful, thanks to the combination of his previous experience, his hard work, and his time at Penn Commercial. "The teachers I dealt with were very helpful and encouraging. They were wanting to help you accomplish your goals. It is a good school for many other areas, as well. The staff is what makes it."
Despite experiencing roadblocks and setbacks throughout his journey, Trent is a success. Words of wisdom he would provide for other Penn Commercial students would be to "absorb all the knowledge you're getting from the staff members. Accept their help when they offer it." The staff and faculty at Penn Commercial do not just tell you they want you to succeed, they help make it happen. "The staff members were very encouraging. If you were struggling with something, they would sit down with you one on one and guide you through it. Concentrate on what you're doing and focus. Absorb the knowledge they are passing on to you."