Things to Know Before Pursuing a Career as a Practical Nurse (LPN)
by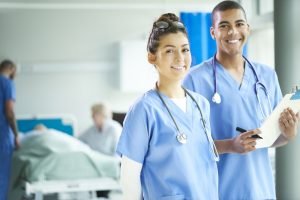 There's no doubt about it – nursing is a hot career choice. As with most fields in the healthcare industry, it's in the midst of serious growth across the country, as well as right here in Pennsylvania. And with the way healthcare continues to evolve, this trend isn't likely to change anytime soon.
A big reason for this trend is that today, nurses are required to handle a broader range of duties and are taking on more responsibilities. With an aging population, as well as more Americans having access to healthcare through expanded insurance coverage, the services provided by nurses will continue to be in demand.
But if you're thinking about pursuing a career in nursing, it's easy to get confused by all of the different types of nurses that you'll find in the healthcare arena. Some of these include:
Licensed Vocational Nurse
Licensed Practical Nurse
Registered Nurse
Nurse Practitioner
Clinical Nurse Specialist
These are just some of the more common ones. Each type of nurse listed above varies by a number of things, including level of education and corresponding income. But for now, we're going to focus on the Licensed Practical Nurse.
Going the route of an LPN is typically a solid path for entry into the field of nursing. So here are five key things that anyone who's considering a career as an LPN should understand about the field to ensure they're making the most informed career decision they can.
What's the difference between LPN and LVN?
You'll often hear people refer to Licensed Professional Nurse (LPN) and Licensed Vocational Nurse (LVN) and wonder what the difference is between the two. In a word, nothing. These two job titles essentially describe the same position within the nursing ranks. Some states refer to them as LVNs while others refer to them as LPNs. Their responsibilities are basically the same, and regardless of which title is being used, both LPNs and LVNs usually work under the supervision of registered nurses (RNs) and physicians.
What kind of income is typical for LPNs?
Obviously, income can vary depending on a wide range of factors such as geographic region in which you're working, type of healthcare setting, and how much experience the LPN has, among others. According to O*Net Online, the median annual salary for LPNs in Pennsylvania is approximately $45,290. That's higher than the national median annual salary of around $44,090.
What kind of patient care does an LPN provide?
The kind of work LPNs are licensed to provide varies by the "scope of practice" laws outlined by each state. Generally speaking, some of the duties LPNs are responsible for include basic patient care like taking vital signs, performing routine laboratory tests, collecting patient samples, cleaning and monitoring medical equipment, gathering patient information and health histories, and completing and submitting insurance forms. LPNs work under the supervision of RNs and physicians.
Where do LPNs usually work?
You'll find licensed practical nurses working in a broad range of settings, including:
Hospitals
Nursing facilities
Physicians' offices
Clinics
Outpatient care centers
Home health care services
Schools
What kind of schooling does it take to become an LPN?
People who are interested in becoming an LPN must enroll in and successfully complete a practical nursing certificate program. One of the key benefits of completing a practical nursing education and training program is that it typically takes much less time to complete than a four-year Bachelor of Science in Nursing (BSN) degree program. And for many who enter the field, becoming an LPN is a smart first step toward later pursuing advanced study and becoming a registered nurse. Upon the successful completion of your program, you'll then sit for the National Council Licensing Examination (NCLEX-PN).
Without question, it's critical to do your research and make sure that you find a practical nursing program that offers the quality, flexibility, convenience, and hands-on training that's been proven and is respected by employers throughout the healthcare industry.
The Practical Nursing program at Penn Commercial/Technical School has been empowering individuals to embark on successful careers in healthcare for years. Penn Commercial is approved by the Pennsylvania State Board of Nursing and has been meeting the career educational needs of students in the area since 1929, with programs in areas like business, healthcare, and trade/technical professions.
The Practical Nursing program, which can be completed in just 12 months, incorporates extensive hands-on training using modern technology and resources such as patient simulators, and approximately 60 percent of the program is completed off campus at clinical sites.
Students focus on such areas as:
Administering medication
Observing and reporting symptoms
Performing therapeutic procedures
Concepts of nursing practice
Pharmacology
Anatomy and physiology
Medical surgical nursing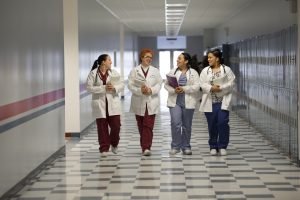 A key benefit of the program is the strong network of connections that Penn Commercial has established with top healthcare facilities, medical centers, and hospitals throughout the region.
Graduates of the program are positioned to take the National Council Licensing Examination (NCLEX-PN), which upon successful completion means they'll have earned their license to begin working as a licensed practical nurse.
The field of nursing is poised for substantial growth in the coming years. In fact, according to the U.S. Department of Labor, Bureau of Labor Statistics, the employment of licensed practical nurses nationwide is expected to grow 12 percent between 2014 and 2024.
And in Pennsylvania, O*Net Online projects employment of licensed practical nurses to grow 9 percent between 2014 and 2024, with approximately 1,440 job openings every year during that timeframe.
So, once you've established a clear understanding of the key things you need to know about becoming a practical nurse and embarked on your journey through a high-quality program like the one at Penn Commercial, the future is definitely bright.