Professional Development is Key at the Annual Conference of the American Association of Medical Assistants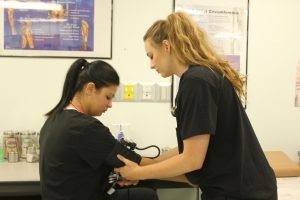 For medical assistants, as with most other professional fields within the health care industry, learning doesn't stop when they complete their degree or certificate program and graduate. It's a lifelong endeavor that involves consistently adding to your base of knowledge and expanding your perspective based on current issues and emerging trends in the profession.
And that's exactly what happened earlier this month for medical assistants who got their start at Penn Commercial, when they joined other MAs from across the country in Cincinnati, Ohio, at the 61st Annual Conference of the American Association of Medical Assistants (AAMA).
During their time in the Medical Assistant program at Penn Commercial, students engage in a learning experience characterized by extensive hands-on training, flexible scheduling options, outstanding instruction from seasoned professionals, and a supportive learning community.
Areas of focus in the program include:
Medical law and ethics
Anatomy and physiology
Human diseases
Medical terminology
Pharmacology
Taking patients' temperature, blood pressure, and measurements
Medical documentation
Medical office procedures
Clinical assisting
Communication
Students develop their knowledge and skills using the kind of modern technology, resources, and equipment that they'll encounter after graduating and entering the profession. Penn Commercial's MA program awards an associate's degree and can be completed in just 18 months.
The program is designed to prepare students for entry-level medical assistant positions in hospitals, medical clinics, physician private practices, and other healthcare settings.
The Key is Lifelong Learning.
It's essential for practicing medical assistants to stay current with what's happening in their profession, as well as in the healthcare arena as a whole.
The AAMA conference in Ohio presented an opportunity for medical assistants to earn Continuing Education Units (CEU), which help working professionals advance their knowledge, stay current in their field, and in many cases are required credentials to maintain licensing.
The conference offered a wide range of educational programming, as well as more than 50 CEUs to medical assistants in attendance. Some of those topic areas included:
Autism Early Intervention—The Body-Brain Connection
Techniques of Phlebotomy
The Role of the Medical Assistant on Colorectal Cancer Screening
Dealing With the Drug Seeking Patient
Cyber Security: Why Health Care is a Target and What You Need to Do
Collaboration and Teamwork with Other Medical Programs
TAVR—Transcatheter Aortic Valve Replacement
Creating an Audit Compliance Plan
Using and Incorporating Resources and Technology in the Classroom
Medicare Access and CHIP Reauthorization Act
Videogames and the Brain
Incorporating Health Literacy into the Curriculum
Again, this is just a sample. There were many other educational programs at this year's conference covering all aspects of the medical assistant profession—from administrative to clinical and patient care.
In addition to the educational programs and opportunities to earn CEUs, the 2017 conference also presented excellent opportunities for medical assistants—as well as MA students—to make connections and expand their professional network. There were options to attend receptions, an awards celebration, and other social events.
Throughout the conference, an exhibition hall featured vendors within the industry who displayed a broad array of the latest in medical assisting products and services, and helped inform attendees of emerging trends in their specific markets.
And the event served as the meeting place for the AAMA's Board of Trustees and other governing bodies, which included important discussions, forums, roundtables, and policy-making meetings that will impact the medical assistant profession over the next year.
A clear point of conversation with regards to the current state of medical assisting is the expansive, rapid growth the profession is in the midst of, and how best to meet the increasing demand for more well trained medical assistants.
According to the U.S. Department of Labor's Bureau of Labor Statistics, the employment of medical assistants nationwide is expected to grow by 23 percent between 2014 and 2024, which would add approximately 138,900 positions.
In the state of Pennsylvania, www.onetonline.com projects a 15 percent growth in the need for well-trained medical assistants, with annual projected job openings of around 850.
Meanwhile, according to recent research reported by www.medicalassistantdegrees.net, the number of students graduating from medical assistant programs has dropped significantly since 2011. In 2011, there were approximately 140,000 medical assistant graduates. In 2013, that number fell to 105,000—a drop of 25 percent over just that two-year period.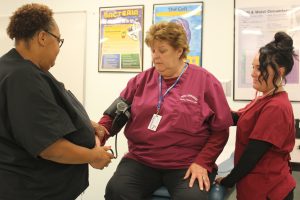 High-quality medical assistant programs like the one at Penn Commercial will play a vital role in helping hospitals, medical clinics, private practices, and other healthcare facilities close the gap. This year's conference offered sessions directly related to the education of medical assistants, such as Public Health and Chronic Disease Prevention in the Curriculum, Incorporating Health Literacy in the Curriculum, and Using and Incorporating Resources and Technology in the Classroom.
Finally, in addition to the educational programs, networking opportunities, and discussions of current topics impacting the medical assisting profession, attendees were able to explore the vibrant city of Cincinnati.
If you're thinking about pursuing a career as a medical assistant and taking advantage of the wealth of opportunities out there in the field, remember that taking part in professional development offerings like the AAMA conference provides an experience that can't be replicated in a classroom or lab.