When it comes to heating, ventilation and air conditioning, Lennox is one of the biggest names in the industry. Founded in 1895, the Dallas area business has built its brand on quality and innovation. From simple home AC units to complex industrial ventilation systems, Lennox can do it all.
Lennox has teamed up with Penn Commercial to supply equipment for their HVAC-R program. Students are trained on some of the most sophisticated equipment in the industry. This is technology that they will be working on after they complete the program. But they also learn on various older models as well, to give them experience with all sorts of systems.
The HVAC-R program instructs students in the fundamentals of heating, ventilation, air conditioning and refrigeration. Over the course of 18 months, students are taught concepts in electricity, DC/AC circuits, HVAC controls and diagrams, heat pumps, gas heating, oil heating, installation and servicing of equipment. Upon completion of the course, graduates are awarded an associate in specialized business degree.
An HVAC-R technician will have the opportunity to work for companies in the industry, or start their own business. According to the U.S. Bureau of Labor Statistics, the growth for these jobs for the decade 2016-2026 is 15%, which is much higher than the average for all occupations. The median income for HVAC mechanics and installers is close to $48,000 per year. In areas of high demand for skilled trade workers, pay can be much higher.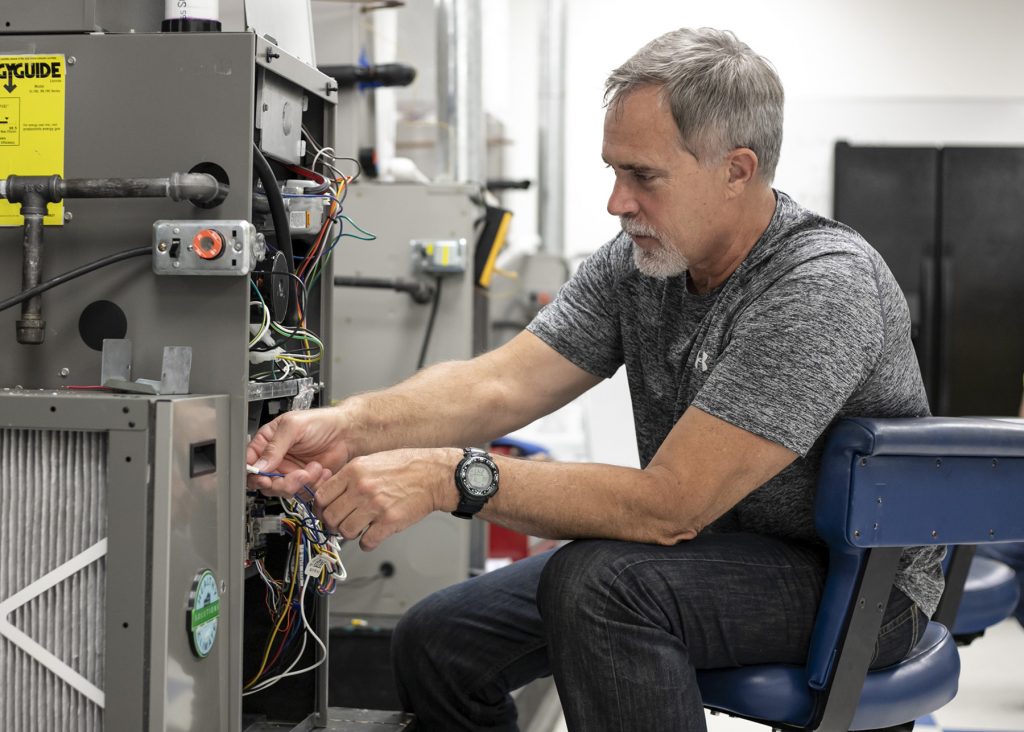 HVAC-R technicians will have the opportunity to work on systems in a multitude of locations, including private homes and residential communities, schools, hospitals, hotels, apartment buildings, stores, office buildings, factories, restaurants, government buildings – any place that utilizes air conditioning, heating, and refrigeration. A great opportunity is the planning of new buildings. Students in the HVAC-R program are trained to understand where air handlers should be placed, how to set up ductwork, and understand how air flows throughout a building.
Penn Commercial's HVAC-R program is the only Lennox sponsored course in the tri-state area. While students will learn on equipment from other manufacturers such as Carrier, Trane and GE, allowing them to become familiar with a variety of systems, Lennox donated the majority of the systems for the course. Many students become Lennox affiliated technicians after they graduate.
The course isn't just about heating and air conditioning, though. Refrigeration is a large portion of the program as well. Much of the science and mechanics behind refrigeration is the same as air conditioning, utilizing condensing coils, compressors, exhaust and such. The classroom has refrigerators from Kitchenaid, GE and other name brands.
Penn Commercial's HVAC-R program starts every quarter for the Fall, Winter, Spring and Summer. More information about the program and enrolling can be found on our link here.