"Everything you own comes from a truck."
When asked to explain the importance of the trucking industry and cdl truck drivers opportunities, Lead CDL Training Instructor at Penn Commercial Business/Technical School Ben Crawford gets straight to the point.  While the increase in online shopping has negatively affected local retailers, from the big box stores to the mom-and-pop shops, and malls closing all across the country seemingly every week, the demand to ship products has seen very little impact.
"This stuff still has to come in from somewhere," says Crawford.
It's no secret that the trucking industry has seen a rise in demand for qualified CDL drivers in recent years.  As young people chose to go the route of extending their education at colleges and universities, a void in available commercial truck drivers has slowly developed.  Older drivers are retiring and there aren't enough qualified replacements to fill the open positions.  Meanwhile, the demand to ship products, groceries, industrial materials, even mail, has only increased over the past few decades.  As a result, trucking companies are competing for reliable workers who have their commercial driver's license.  Businesses are forced to raise salaries, wages and benefits in order to entice people to work for them, and even enter the truck driving industry.  In some cases, companies are even hiring people without any trucking experience and they're paying for CDL training.
Penn Commercial Business/Technical School in Washington, PA offers CDL training for people looking to start a lucrative new career almost immediately.  Their six-week daytime CDL Training program gives students real hands-on experience behind the wheel of an 18-wheeler.  They also offer evening and weekend training for people who work during the day but want to pursue a new career.
"We don't use simulators like other schools," notes Crawford.  "And since we can only fit four students in a truck, they get a lot of time on the road."
"It was surprising that I learned that much in such a short time," explains Michael Jamison, a 2019 graduate from the CDL Training program.  "We spent a lot of time driving, which at a lot of schools you don't drive as much as you do at Penn Commercial.  It was great training."
Because of the high demand for truck drivers throughout the region, Jamison had no problem finding work.  In fact, he had companies contacting him while he was still training.
"While I was still training, I was getting calls and emails from tons of companies," he says.  "I started driving a truck the same day I got my CDL license.  There are companies all over the place looking for drivers."
According to the U.S. Bureau of Labor Statistics, the job outlook for Heavy and Tractor-trailer Truck Drivers for 2018-2028 is 5%, with an increase in nearly 100,000 jobs over that period.  However, these figures do not account for the growing number of job vacancies due to retiring drivers.  In fact, by the end of 2018, more than 60,000 truck drivers were needed to meet the demands of freight services, according to the American Trucking Association.  Their report also projected that an average of 110,000 new driver positions will need to be filled each year to replace retiring drivers and to keep up with trucking industry growth.  The majority of those truck driver jobs will be in the over-the-road for-hire sector.
There is also great opportunity for female drivers.  In this generally male-dominated field, just 6.6% of drivers are female.  Companies are always looking to expand their employee base by hiring women.
"We've had many women go through our CDL training, and they loved it," says Crawford.  "A few months ago, I had three women and a guy in my class.  The women did very well."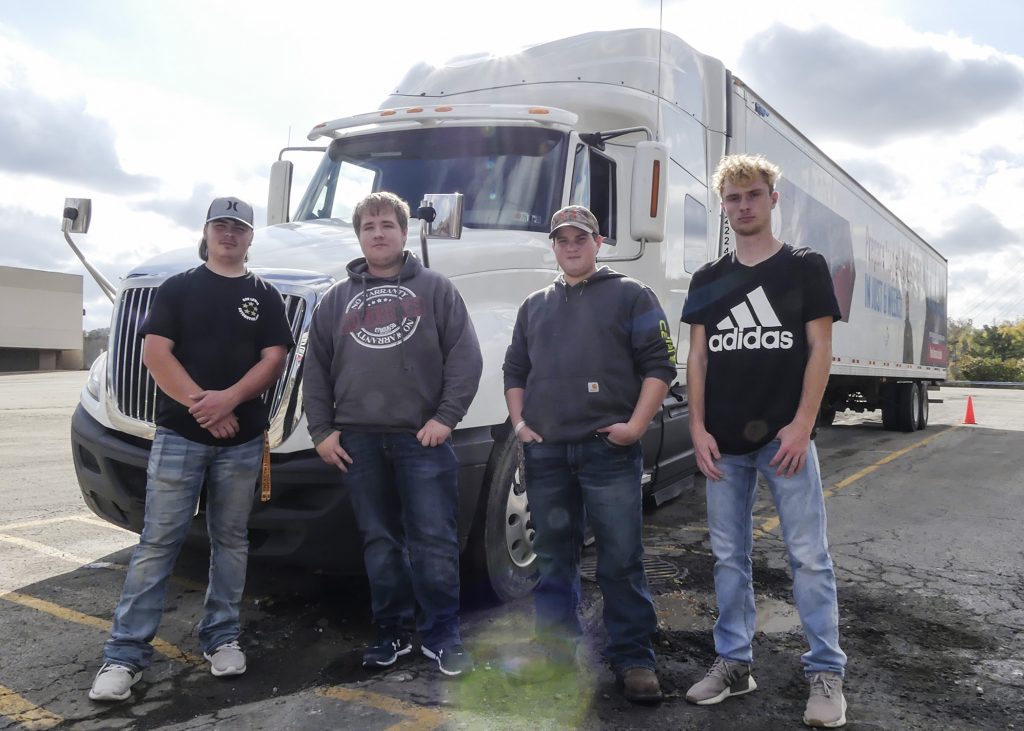 Because there is such demand for CDL truck drivers, Penn Commercial has recently expanded their CDL training program to work with local high schools.  Seniors who are 18 years old can take the CDL Training during their regular school day, and even test for their Class A Commercial Driver's License before they graduate.  Greene County CTC in Waynesburg, PA has several students in the program during the 2019-20 school year.
The opportunity for young adults to have their CDL and work right after graduating high school is another example of just how much demand there is for truck drivers.
Learn more about the CDL Training program here.