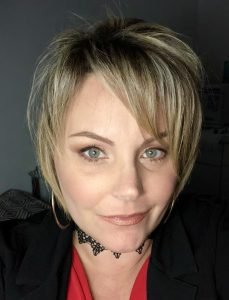 It wasn't in Christine Pickering's plans to become a teacher. A licensed cosmetologist for 21 years who owned and operated a salon for more than 14 years, she also studied nursing and went back to school five years ago to get her esthetics license. Pickering's esthetics instructor and college professor recognized her potential for teaching and made her an offer she couldn't refuse. "They said they thought that I should be teaching, so they gave me a full scholarship to get my teacher's license," Pickering says. She took their advice and first taught the Esthetics Program and Cosmetology at Laurel Business Institute. She then joined Penn Commercial as a cosmetology instructor at TONI&GUY Academy. "I used to teach all the chemical services at TONI&GUY — the hair color, perming and relaxing — and while I was over there, I wrote the program for esthetics."
Now in its third rotation (class) of students, Penn Commercial's 12-week esthetics program prepares students to do basic facials, spa facials, fruit facials and hot-stone facials, make-up, waxing and hand treatments with paraffin, as well as body wraps, chemical peels and microdermabrasion. "As a licensed esthetician, we are only allowed to work on the epidermis, which is the outer layer of the skin," Pickering explains, "so if there's any kind of a deep peel involved, that's going to be in a physician's hands. It doesn't mean that we wouldn't be there to assist, put we're not permitted to do a deep peel."
With all of these skills students learn, they can work in a variety of locations. "If you work as an esthetician in a wax center, then you're probably just going to wax every body part possible," Pickering says. "If you work for a salon or spa that offers eyelash services, they're going to focus more on arching of the brows and eyelash extensions. If you go to work in a place like Ulta, Sephora or a cosmetics stand, they're going to focus more on the makeup aspect of it." One area that is growing and needs estheticians is the medi-spa arena. "I actually love the medi-spa atmosphere, because having the skin care background and the cosmetology along with the medical background — that's more my love," she says. Students are required to learn basic anatomy, physiology, chemistry and electricity. "A lot of dermatologists, plastic surgery centers and laser institutes are now hiring estheticians and are training them in advanced techniques," she says. Microblading, eyelash extensions, laser training and microplaning require those advanced techniques that are typically learned on the job — but the esthetics license is a prerequisite.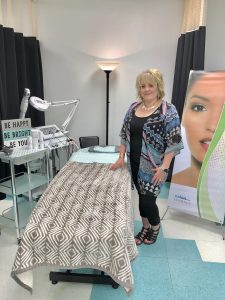 At Penn Commercial, students have to make every second count because there is so much to learn. They are in class Monday through Friday from 8:30 a.m. to 4 p.m. for 400 hours of training, or 12 weeks. "We typically do one to two chapters of theory a week and then test out on that, and then it's hands-on skills," Pickering says. On day one, they learn the basic facial procedures and massage training on the décolleté (chest area) of their mannequins. By the end of the first week of class, they are practicing on each other.
Students hone their skills on state-of-the-art equipment, including a 14-in-1 machine that allows them to do a number of skin procedures, including electrotherapy treatments. "We alter the pH of the skin to be able to, for example, do extractions [of pimples]," Pickering says. Skin is naturally in an acidic state, so when an alkaline substance is used on a negative pole of electrotherapy, it draws out impurities. "We actually can zap the bacteria with a high-frequency current, and it gives germicidal healing, circulation and promotes cell turnover." Afterward, they put the skin back into an acidic state by changing the galvanic current to a positive pole and use an acidic product to penetrate the skin.
With so much to do in such a limited amount of time, Pickering says there are challenges — for both her and her students. Her biggest challenge is with students whose attendance is poor or who get there and realize esthetics is not for them. "I run a pretty tight ship here," she says. "I'm very good at presenting the material in more than one way, so I've never had a student so far — knock on wood — who has struggled in any of my programs." For students, the biggest challenge is learning the medical aspects, including diseases and disorders of the skin. "I always re-enforce to them, 'You're not in nursing school. You're not a doctor. You're not allowed to diagnose. We need to learn the basics of what you need to know for skin care.' So I try to focus it more on a skin care aspect."
Once students complete their esthetics training, they can take their Pennsylvania State Board of Cosmetology exams. Because the esthetics program falls under cosmetology, students are required to know all the Pennsylvania cosmetology laws. "They cannot do hair, but they have to learn how many square feet you need for a salon floor, how many towels do you have to have and things like that," she says. "They learn the laws behind it, but not the theory."
So far, seven students have graduated from the program that is not yet a year old. Most of them have jobs or have jobs lined up after they pass their board exams. Pickering, who also teaches résumé writing, and the school's director of Career Services, Ashley Subasic, work in tandem to prepare students for job interviews. "We do a mock interview to help prep them to take a job interview," she says. "Once their résumés are complete, the students forward them to me, and then I forward them to her, and then she helps if they're having trouble with job placement." According to the Bureau of Labor Statistics, the job outlook for estheticians is faster than average. "Skin care is so big now that it just keeps growing and growing. We constantly have leads for jobs — especially makeup. Makeup and waxing are really big," Pickering says. "Recently, we had some physicians start to reach out to us."
Although the job market looks good for estheticians, it's not a job for everyone. Pickering says they need to love it. "If you love what you do, you never work a day in your life. I need someone who's dedicated and motivated and someone who is not afraid to try new things." Christine Pickering knows it's the right field for her. "I have such a passion for skin care, and I absolutely love teaching," she says. "My students are the reason why I get up every day. I love it. I love being here."
Do you think esthetics is the career for you? If so, contact Penn Commercial today to learn the skills you need to sit for the Pennsylvania State Board of Cosmetology Esthetics licensing examination and become a skin care specialist — an esthetician.