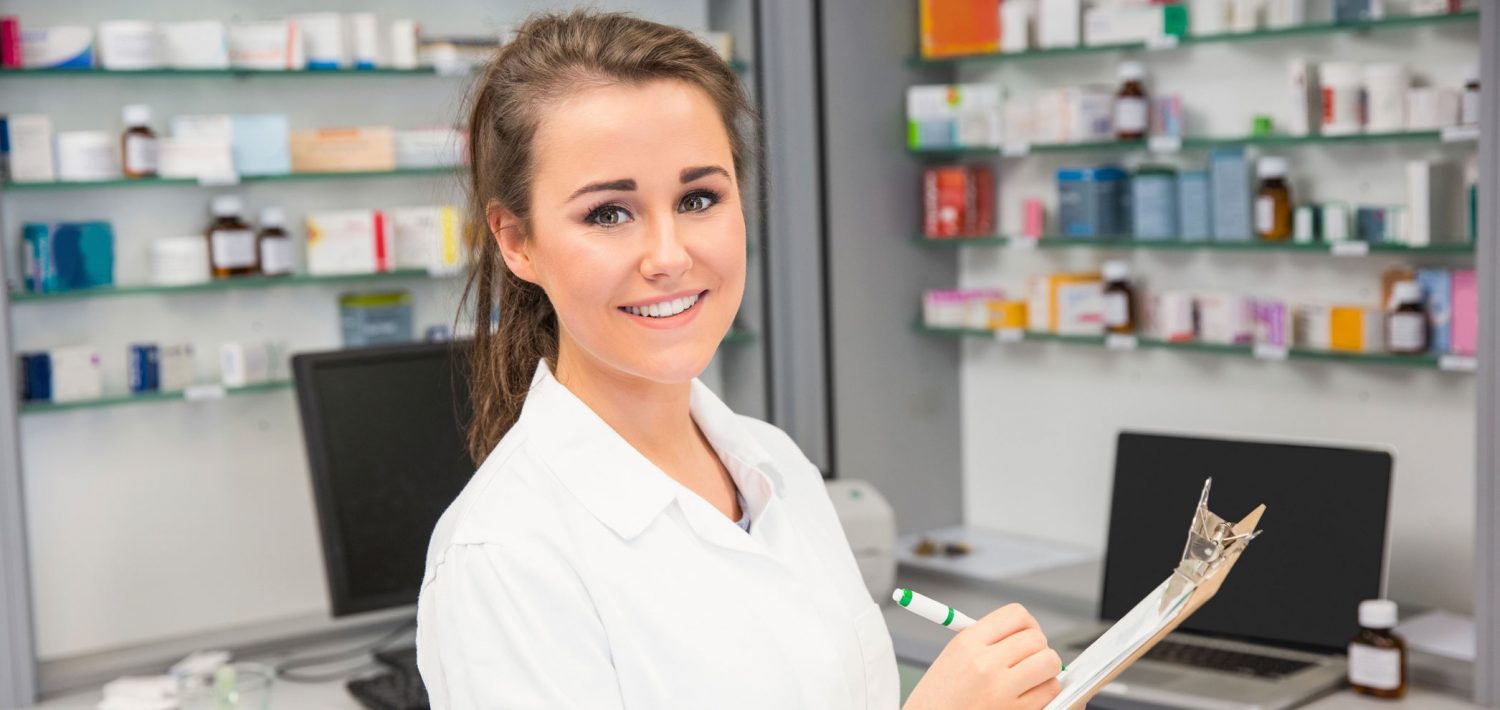 As advances in medicine are made and pharmaceuticals continue to play an important role in the lives of patients, pharmacies are relying more and more on well-trained pharmacy technicians. By assisting pharmacists, interacting with patients and providing good customer service, pharmacy technicians play a vital role in the success of the organization and, more importantly, in our health.
Our pharmacy technician program trains students to deliver essential service to a broad range of patients—from infants to senior citizens—they will serve on a daily basis.
At Penn Commercial Business/Technical School you may complete your pharmacy technician diploma in as little as 15 months. This diploma will prepare you to enter the job market with a solid understanding of pharmacy theory as well as hands-on experience.
What You Can Learn
As a student in this 15-month pharmacy technician diploma program, you will study pharmacy theory and the practical applications of knowledge in real-world scenarios. Some of the topics include:
Medical Terminology
Pharmacology Mathematics
Pharmacology Principles and Practices
Medical Insurance and Billing
Pharmacology Software Management
Anatomy and Physiology
Communication
Customer Service
Earning a diploma in the pharmacy technician program will also prepare the graduate to take the Certified Pharmacy Technician Exam with the Pharmacy Technician Certification Board.
Additional Skills
Pharmacy technicians have a wide array of responsibilities, such as:
Learning how to keep a pharmacy running efficiently
Interacting with patients and providing outstanding customer service
Interacting with vendors and health care professionals
Coordinating information with insurance companies
Counting and bottling pills
Labeling prescription bottles
Being an organized team player
Controlling inventory
Our pharmacy technician program incorporates important hands-on training, delivered by experienced instructors who have spent years working in the health care industry.
To better understand the pharmacy technician scope of work, you will study a variety of areas associated with administrative responsibilities, communicating with patients, and preparing and distributing medication to them.
When You Can Learn
Classes are forming now, so the best way to get started is by calling 724-222-5330 today. You can also stop by our campus. Our staff will be glad to explain how our admissions process works and show you our facilities.
Once enrolled, classes are scheduled Monday through Thursday, between 8:00 a.m. and 4:30 p.m., and externships are scheduled during the final quarter of the program. Our program schedule is especially tailored to train you for the externship during the first quarters.
Where You Can Go
At Penn Commercial Business/Technical School we want our students to feel empowered. That is the main reason why we offer preparation for the essential abilities and knowledge to pursue a new career.
The health care industry is growing quickly, which presents great opportunities for those working in this area. According to data retrieved from O*NET OnLine, the job growth projection from 2016 to 2026 is 10% to 14%, which is much faster than the 7% average. It is projected that 37,500 new job openings will be created in that period of time, generating prospects for skilled professionals.*
With a pharmacy technician diploma, the student can work in different roles, such as:
Certified Pharmacy Technician
Pharmacy Clerk
Hospital Pharmacy Technician
Pharmacy Order Technician
Pharmacy Billing Specialist
Pharmacy Service Technician
Retail Pharmacy Technician
"The experience at Penn Commercial was truly a positive one for me. I believe I made the right decision and I'd do it again in a heartbeat."
Margaret Bosnyak, Penn Commercial graduate
The pharmacy technician program is designed to train graduates for entry-level positions and offer them with the required skills to take the Certified Pharmacy Technician Exam. At the end of the program, they will have been exposed to ordering, stocking and packaging medications to preparing and dispensing them.
As a pharmacy technician you will execute administrative and pharmaceutical tasks under the supervision of a pharmacist in multiple settings. Here are some examples:
Hospital pharmacies
Grocery store pharmacies
Drug store pharmacies
Retail pharmacies
Mail-order pharmacies
Who Hires Our Grads
St. Clair Hospital
Adult Neurology
Advanced Womens Care of Pittsburgh
Centerville Clinics
Central Outreach Wellness Center
Claysville Family Practice
Cornerstone Care
Crossroads Chiropractic
Ganzer Hahn Dermatology Associates, PLLC
MedExpress Urgent Care
Preffered Primary Care Physicians (multiple locations)
TriCounty Urology
UPMC Urology
Washington Health System (multiple locations)
XYZ Medical Billing Inc.
At Penn Commercial Business/Technical School you will find personalized instruction, experienced faculty, up-to-date facilities and academic support.
To help students find the right position after graduation and successfully launch their new careers, our alumni & career services can offer a variety of services like job fairs, career counseling, interviewing workshops, job listings, resume assistance, employment newsletters and externships.
*http://www.onetonline.org/link/summary/29-2052.00