Medical Assistant Training School at Penn Commercial
At Penn Commercial Business/Technical School we believe in empowering our students. For us, this is the way to achieve professional goals and successfully launch new careers.
The job market for medical assistants is growing considerably above average. According to data retrieved from the Bureau of Labor Statistics, the job growth projection from 2019 to 2029 is 19% — much faster than the average. Now is the perfect time to start your training for a career as a medical assistant, since the projected number of job openings for that same period of time is of 139,200. 
There are multiple examples of employment opportunities for those who hold a medical assistant associate degree or diploma.
Certified Medical Assistant
Electrocardiogram (EKG) Technician
Medical Biller
Medical Assistant
Medical Representative
Medical Administrative Assistant
Administrative Medical Assistant
Podiatric Medical Assistant
Industry Certifications
Students of the Medical Assistant program will take two certification examinations through the National Center for Competency Testing (NCCT). Penn Commercial does not guarantee that students will pass these examinations.
National Certified Medical Assistant (NCMA)
National Certified Phlebotomy Technician Examination (NCPT)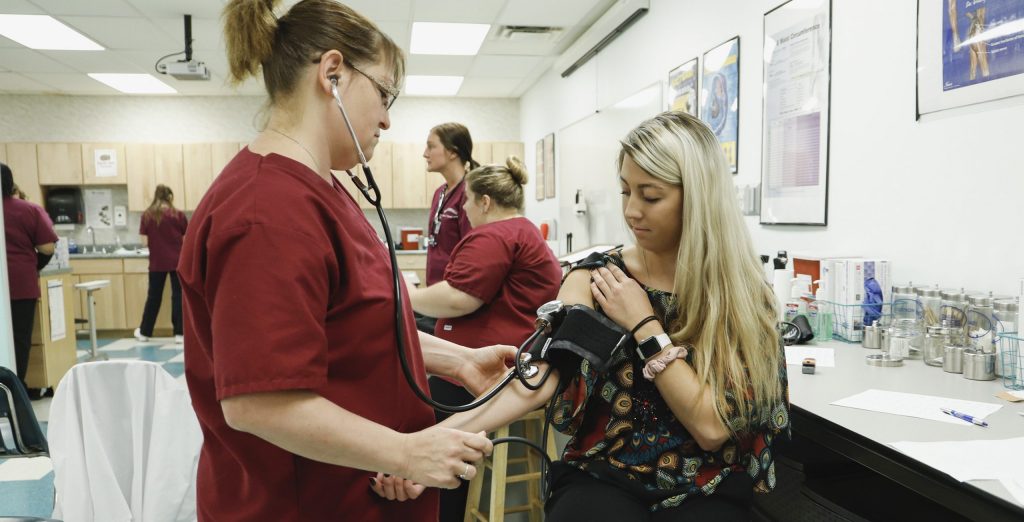 This program's mission is to equip you with the knowledge and skills it takes to pass your certification exam and enter the field so you can take advantage of that increasing demand.
As a medical assistant you will execute administrative and clinical tasks in multiple settings and offices, such as:
Hospitals
Physicians' Offices
Clinics
Outpatient Care Centers
Other Health Care Facilities
Classes at Penn Commercial Business/Technical School are tailored to teach every skill necessary for you to succeed in a career as a medical assistant. We do that through personalized instruction, experienced faculty, cutting-edge facilities and academic support.
Our alumni and career services can help you find the right position in the job market. Penn Commercial Business/Technical School was opened in 1929, and since then we have successfully placed a great number of students. You can find our alumni network all around the United States working in different industries and achieving great success in their professional lives.
Who Hires Our Grads
Adult Neurology
Advanced Womens Care of Pittsburgh
Centerville Clinics
Central Outreach Wellness Center
Claysville Family Practice
Cornerstone Care
Crossroads Chiropractic
Ganzer Hahn Dermatology Associates, PLLC
MedExpress Urgent Care
Preffered Primary Care Physicians (multiple locations)
TriCounty Urology
UPMC Urology
Washington Health System (multiple locations)
XYZ Medical Billing Inc.
Students can find job placement assistance with services like job fairs, career counseling, interviewing workshops, job listings, resume assistance, employment newsletters and externships.
Additional Medical Assistant Program Entrance Requirements
In addition to your high school diploma or GED certificate, entrance to the medical assistant program at Penn Commercial requires the following:
Physical examination and immunization record
Ability to lift and carry up to 50 pounds
Ability to assist with lifting, moving and transferring patients onto an examination table
Clinical duties require a reasonable level of manual dexterity, lifting, sitting, standing, bending, vision and hearing acuity