Continuing your education is a big step in anyone's life. It's not just a time commitment of all those classes needed to complete the programs, it's also a commitment of mental focus, career choice, and of course, money. A lot of money. That's where the benefits of trade school come into play.
While more Americans than ever have postsecondary degrees, the cost for those educations continues to skyrocket. For many, attending a university after high school is automatic. It's what their siblings did. It's what their parents did. It's simply the natural, expected progression for their lives ahead of them. But with that tradition comes the burden of perpetually increasing tuition. Because a degree from a university can cost as much as a house at some schools, and many employers for college graduates just aren't paying enough to justify those degrees, there is beginning to be some pullback in enrollment. Traditional colleges across the country are starting to see their incoming freshmen numbers decreasing year over year, some by as much as 10% or more.
The reason? Over the past few decades, there has been a societal shift away from skilled labor to "white collar" work. So many young adults attend traditional colleges. As a result, there is an overabundance of degree-holders who can't find jobs in their field of study. The labor pool is too saturated. When companies list open positions and they're receiving hundreds of qualified applications, it's standard practice and good financial sense to hire the most qualified person at the lowest possible wage. When there are dozens of educated people willing to work a position for a low wage, there's no incentive for employers to raise that wage. Consequently, millions of college grads are finding it difficult to land well-paying positions while at the same time they're drowning in debt from student loans.
This perfect storm is exactly why trade schools across America are seeing a resurgence in interest. The programs and training offered by career and technical schools have become a highly sought-after skillset, not just by students, but by employers. Open positions for HVAC technicians, electricians, welders, nurses, IT professionals, CDL drivers, and many other technical trades are going unfilled due to a lack of qualified applicants. For these jobs, there just aren't enough workers available. As a result, competition among companies for skilled employees has pushed wages and salaries ever higher.
It's the classic Supply vs Demand model: an abundance of qualified applicants causes wages to be low, while a lack of qualified applicants causes wages to increase. But adult students aren't choosing technical schools over traditional universities just because of job prospects and rising wages, it's also the number of years spent learning a trade, the types of classes required for those degrees, and most importantly the cost of those educations.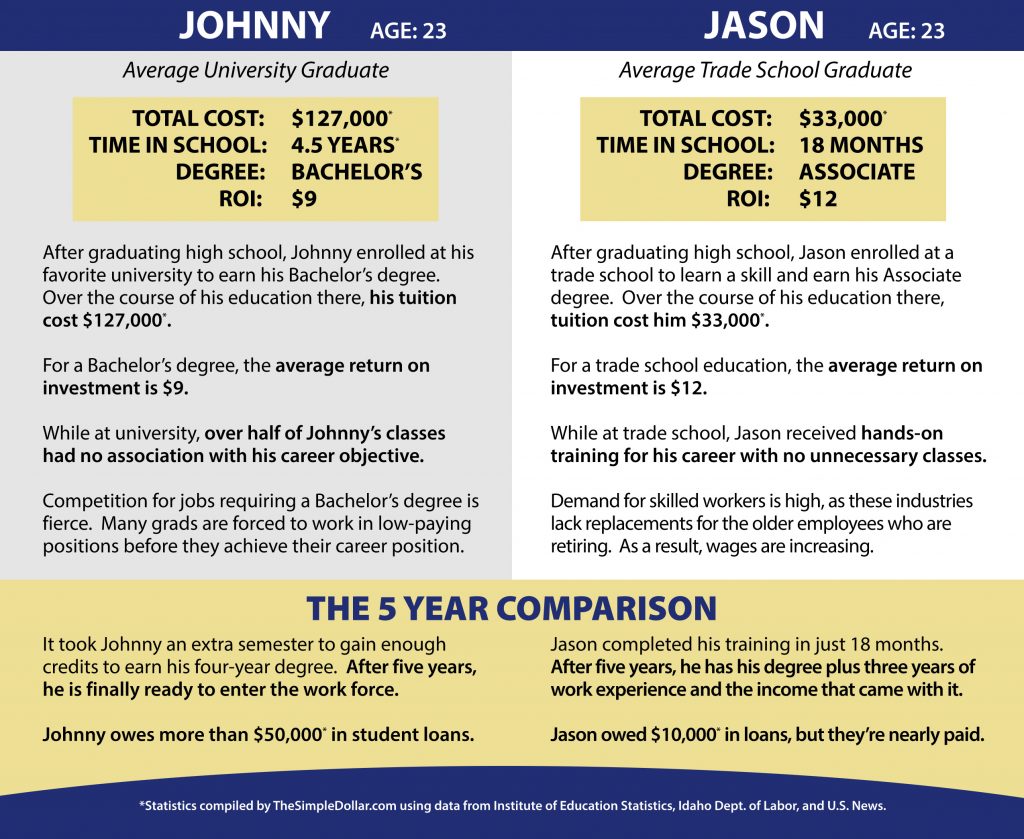 Let's look at the numbers:
The average cost to graduate from a university is $127,000. The average cost for a trade school is $33,000.
The average time in university to complete their degree is 4.5 years. The average time to complete an associate degree or diploma program from a trade school is 18 months.
The average university graduate owes more than $45,000 in student loan debt. The average trade school grad owes less than $10,000.
While current statistics do show that university graduates earn marginally more per year than trade school grads, the return-on-investment for trade school is $12 while a university is just $9 over their lifetimes.
Other things factor in as well. Since a trade program can be completed in a year and a half while the average university degree takes more than 4 years to complete, those who acquire their educations at technical colleges have a three year jumpstart on their careers. That's three years extra work experience, and the income that comes with it. And, in many cases, they have already paid off any loans by the time their university friends are just flipping their tassels and entering the job market.
Another thing to consider is the number and type of classes required be each. A university sells itself on educating "well rounded" individuals. Students are required to take electives and other courses that have no application in their career fields. At trade schools, their career training is the focus during their time there. Most of their time is focused on perfecting their trade with very little unnecessary coursework.
Ultimately, the choice of career is up to the student. Some career training can only be found in a university setting. And some can only be acquired at a technical school. At Penn Commercial Business/Technical School, our mission is to provide incoming students with the best instruction in the shortest time possible at the lowest practical cost. We offer programs with Specialized Associate Degrees, Diplomas and certifications.