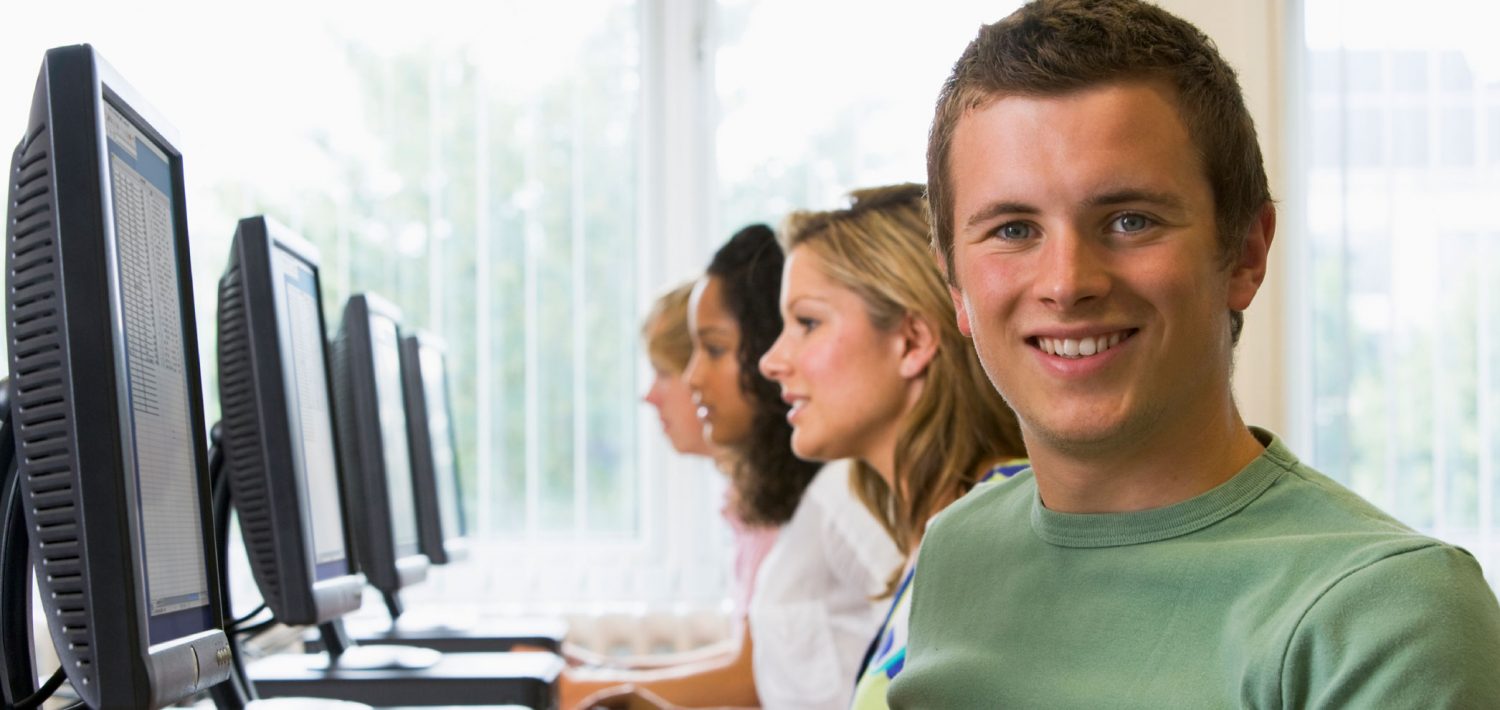 Visit any business office or setting that is thriving, and you will see that a big reason for its success is the work of a talented and skilled office administrator. This role requires motivation, attention to detail, creative problem solving, and the ability to multitask and prosper in a fast-paced business environment.
Our business office administration program is designed to prepare you as that kind of professional with the right skills to succeed in a competitive job market.
Our program will award you with an associate's in specialized business degree in as little as 18 months. That means that in less than two years you will be ready to successfully start your career.
What You Can Learn
As a student in this 18-month business office administration program—which awards the associate's in specialized business degree—you will be able to gain knowledge in a variety of areas necessary to help manage an office setting. Some of these include:
Business Communication
Elements of Economics
Business Law
Payroll Records and Accounting
Project Management
Spreadsheets and Word Processing
Business Mathematics
Customer Service
More than anything, the goal of Penn Commercial's business office administration program is to prepare you to play a vital role in ensuring the smooth operation of a professional business office.
How You Can Learn
A key strength of the business office administration program is a faculty of seasoned administrative professionals who have worked in real-world settings for years.
"I liked my instructors very much. They were very knowledgeable and I enjoyed going to class."
Anna Lowe, Hiring and Training Coordinator, Best Buy
Your classes will cover important theory, and you will be able to apply what you learn in various settings and activities, as well as in an externship in an actual business environment to be completed at the end of the program. You will train with the latest technology and software in areas like word processing, databases, spreadsheets, computerized accounting, with QuickBooks, Peachtree, Microsoft PowerPoint, and Microsoft Excel.
Where You Can Learn
Classes are forming now, so the best way to get started is by calling 724-222-5330 today. You can also stop by at our campus. We will be glad to explain how our admissions process works and show you our facilities.
Once enrolled, classes are scheduled Monday through Thursday, between 8:00 a.m. and 4:30 p.m., and externships are scheduled during the sixth and final quarter of the program. Our program schedule is especially designed to train you for the externship during the first quarters. Penn Commercial Business/Technical School wants you to be prepared with the desired skills for the job market, so you can succeed in your career.
Where You Can Go
At Penn Commercial Business/Technical School we want to empower students. And that is what we have been striving to do since 1929. In order to successfully achieve this goal, it is important to provide students with opportunity to acquire the knowledge that they need to launch their new careers.
The market for office administrators is expected to continue growing in the next years. According to O*NET OnLine, it is projected to grow from 5% to 9% between the years of 2016 and 2026. The projected number of job openings for that same period is 29,400.* This data shows that opportunities will keep on increasing for the next few years and potential candidates must be prepared to successfully enter the workforce.
With an associate's degree in business office administration you can work in multiple office roles, such as:
Administrative Assistant
Business Office Assistant
Administrative Secretary
Executive Secretary
Office Manager
Accounting Assistant
Office administrators and managers are important members of any office's team. These positions allow you to work in:
Marketing firms and agencies
Manufacturing corporations
Insurance and accounting agencies
Real estate companies and offices
At Penn Commercial Business/Technical School, our programs are designed to deliver results. Our classes are tailored to transform your career dreams to reality through personalized instruction, experienced faculty, up-to-date facilities and academic support during the whole time you are studying.
Who Hires Our Grads
Baker's Waterproofing
Blackfoot Services, LLC
Borough of Zelienople
Canton Township Municipal Building
Capital Asset Protection, Inc.
Champion International Moving
DNOW
Dollar Bank
Pathways of Southwestern PA
Penn Commercial Financial Aid
Register of Wills–Washington County
Stelmack Dobransky & Eannce, LLC
Waller Corp.
Washington County–Human Resources
To make your job search easier after your graduation, Penn Commercial Business/Technical School has alumni and career services available for all enrolled students.
Our alumni network is considerably big since the school has been around since 1929. You will be able to find our alumni in companies all around Pennsylvania in different fields. This builds a strong contact base and may create numerous professional opportunities.
Penn Commercial also offers job placement assistance with services like job fairs, career counseling, interviewing workshops, job listings, resume assistance, employment newsletters and externships.
*http://www.onetonline.org/link/summary/43-9199.00