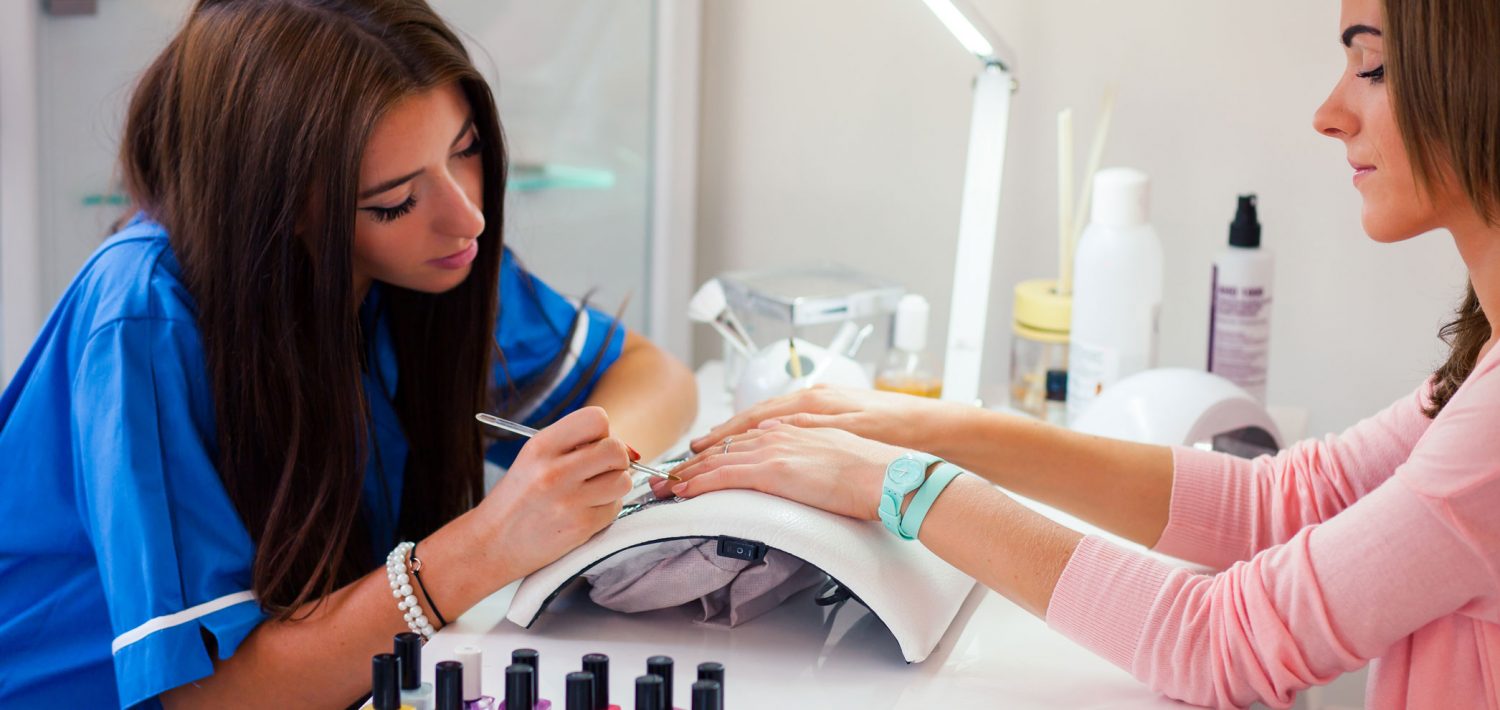 Being a nail technician is all about putting creativity into action in a way that makes people feel better about themselves. To succeed, it takes excellent people skills, artistic ability, attention to detail and a dedication to make sure the wishes of your customer are being met.
Our nail technician program is designed to equip students with theoretical and practical training, as well as the necessary abilities to provide outstanding customer service.
At the end of this three-month program you will be prepared to accept entry-level positions in the manicuring field, which includes a variety of settings, such as: hair salons, nail salons, and spas and resorts, and you can also choose to be self-employed.
What You Can Learn
In this three-month diploma program, students will learn the necessary foundational knowledge to become a nail technician. They will also learn about how to stay up to date with the latest trends in the industry and to provide great customer service.
Some of the covered areas in this program include:
Manicuring
Histology
Cells/Anatomy
Cosmetic Dermatology
Salon Management
Chemistry and Electricity
Sterilization, Sanitation and Bacteriology
Students will also learn about state laws that govern nail technicians in Pennsylvania. Graduates of this program will be eligible for the nail technician licensure examination given by the Pennsylvania State Board of Cosmetology.
How You Can Learn
The nail technician program offers a useful combination of classroom learning with an abundance of hands-on training designed to simulate a professional salon setting. As a student in this program you will gain intensive guidance in Penn Commercial's on-site training laboratory.
You will be able to work under the supervision of instructors who are serious and passionate about their careers, and are full of experience to pass on. Our teachers are seasoned professionals who have been in the market for years. Students will also be exposed to the secrets of the trade that instructors have learned from working in the industry. This kind of knowledge can prepare you for challenges that you might encounter when working with real clients.
When You Can Learn
Classes are forming now, so the best way to get started is by calling 724-222-5330 today or stopping by our campus. Our staff will be glad to explain how our admissions process works and show you our modern facilities. Once enrolled, classes are scheduled Monday through Thursday, between 8:00 a.m. and 4:30 p.m.
Where You Can Go
The nail technician job market is growing faster than the average. The increase in employment follows the growing desire amongst women, and an ever-growing number of men, to lead a healthier lifestyle that should be reflected in their grooming, as well.
Well-trained and highly skilled nail technicians are always—and truly—valued by their customers. With the rising number of nail salons, the opportunities are very promising. Manicurists and pedicurists held about 113,600 jobs in 2014, of which 68% were in the personal care services industry. About three out of ten professionals were self-employed, many running their own nail salon businesses.*
According to data retrieved from O*NET OnLine, the employment of manicurists and pedicurists is projected to grow 13% from 2014 to 2024, with over 20,000 projected job openings during the same period. *
As a nail technician, students will be able to work in a broad range of professional settings. Some of those are:
Nail salons
Hair salons
Spas
Mobile manicure and pedicure service (working on house calls)
Manicurists and pedicurists usually perform different tasks as part of their daily routine. Those tasks might include:
Preparation of client's nails with soapy water
Smoothing and shape nails
Massaging and moisturizing hands and feet
Grooming cuticles
Applying undercoat and nail polish
Presenting options of nail polishes to clients and keep them informed of the latest trends
Keeping tools sanitized and clean
Scheduling appointments
Providing great customer service
At Penn Commercial Business/Technical School, our programs are designed to deliver practical training, preparing students for the workforce. Our classes are tailored to transform your career dreams to reality through personalized instruction, experienced faculty, cutting-edge facilities and academic support during the whole time you are studying.
To make your job search easier after your graduation, Penn Commercial Business/Technical School has alumni and career services available for all enrolled students.
Our alumni network is considerably big since the school has been around since 1929. You will be able to find our former students succeeding in their craft all around Pennsylvania and the United States in different fields. This creates numerous professional opportunities and a strong contact network.
Penn Commercial also offers job placement assistance with services like job fairs, career counseling, interviewing workshops, job listings, resume assistance, employment newsletters and externships.
*http://www.onetonline.org/link/details/39-5092.00