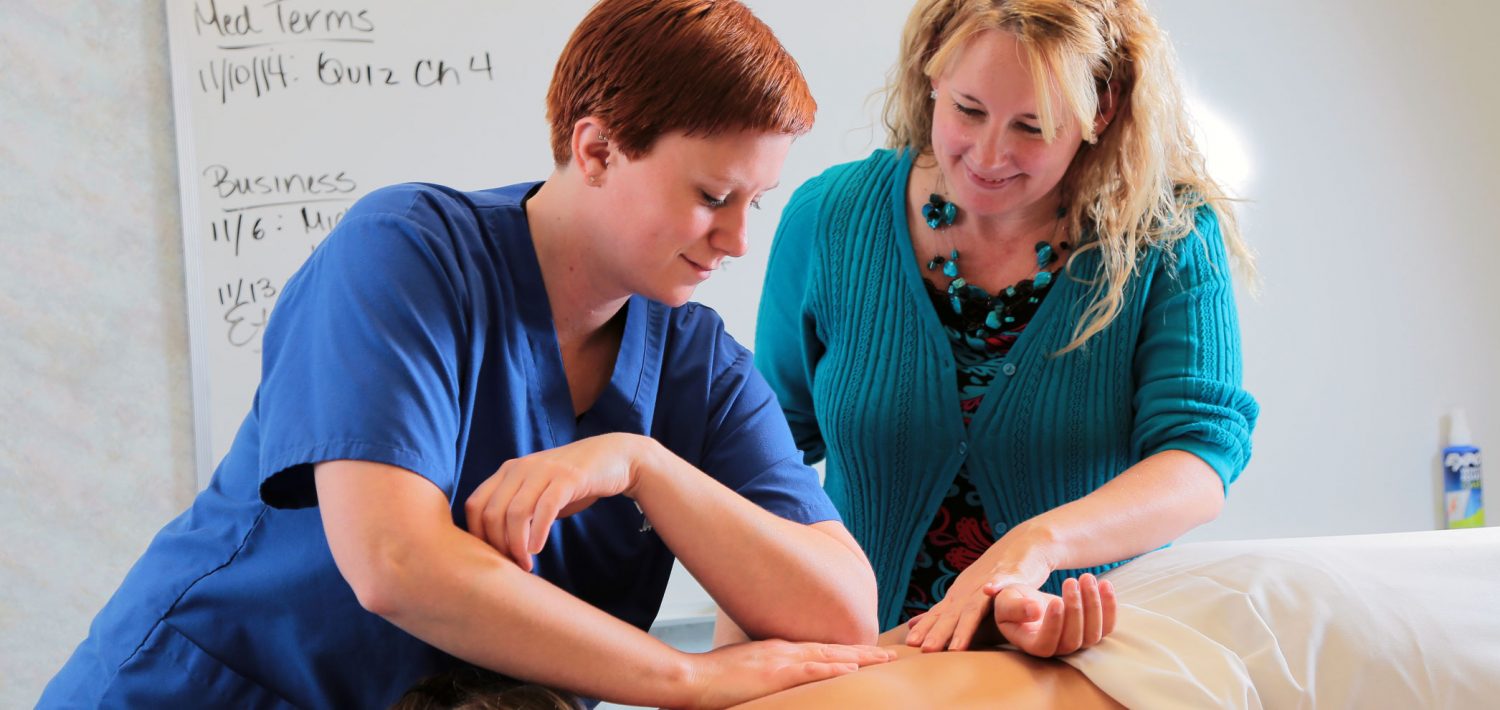 The Massage Therapy field has grown with the rising demand of healthier lifestyles. According to the American Massage Therapy Association (AMTA) the number of massage therapists in the United States is between 300,000 and 350,000, and is continually growing.
Penn Commercial Business/Technical School provides Massage Therapy training solutions. The information below will cover Massage Therapy salaries, where you can go to school for Massage Therapy, how to obtain Massage Therapy certification, and provide a resource for Massage Therapy schools near you!
Massage Therapy is, at its core, about bringing physical comfort and easing the pain in others. Whether it is through reducing stress, rehabilitating a general injury, treating overworked muscles, sport injuries, or promoting general health, massage therapists are true instruments of healing. And there aren't many pursuits in life as fulfilling as those that involve helping others.
Our Massage Therapy program was created to deliver the know-how and the skills you will need for this fulfilling and rewarding career. Our program prepares students to enter entry-level positions in the Massage Therapy field, and is also designed to provide instruction and training focused on helping the student pass the necessary exams required for licensure as a massage therapist.
Massage Therapy Program Structure
As a student in this 9-month diploma program you will gain knowledge and perspective on the various issues and topic areas related to the Massage Therapy field, as well as take part in extensive hands-on training. Some of the areas of focus are:
Medical Terminology
Anatomy and Physiology
Massage Techniques
Assisting in Examinations
Sports Massage
Injury Prevention
Trigger Point Therapy
Prenatal/Postnatal
First Aid/CPR
The program will also give you instruction and education focused on helping you pass the necessary exams required for licensure as a massage therapist after you graduate. This may be a state licensure exam or one offered by organizations like the Federation of State Massage Therapy Boards or National Certification Board for Therapeutic Massage and Bodywork.
Getting Started at Penn Commercial
The Massage Therapy program offers a valuable blend of classroom learning and hands-on experience. This field is very practical, so it only makes sense to have a program that is crafted in the same way.
You will be guided by instructors who are accomplished massage therapists and can deliver the knowledge it takes to succeed. You will also complete a practicum at a Massage Therapy site as part of the program. At Penn Commercial, we offer modern facilities and laboratories in which you will train in and learn all the required abilities for the Massage Therapy field.
Between time spent in the classroom learning the necessary theory, and the hours you will spend in active training exercises, you will benefit from a well-rounded experience that will give you the proper expertise to launch your new career.
When You Can Learn Massage Therapy
Classes are forming now, so the best way to get started is by calling 724-222-5330 today or stopping by. Once enrolled, classes are scheduled Monday through Thursday, between 8:00 a.m. and 4:30 p.m., and your practicum hours will be scheduled in the last quarter of the program.
Where You Can Go for Massage Therapy Training
Penn Commercial Business/Technical School has been proudly empowering students and changing lives since 1929. For us, empowerment is the key to academic and professional success.
Massage Therapy Jobs, Salaries, and Career Outlook
The job market for massage therapists is growing much faster than the national average, and as an increasing number of states adopt licensing requirements and standards for therapists, the practice will gain more respect. According to the Bureau of Labor Statistics, the projected employment growth is 22% from 2014 to 2024.*
On the same note, as more health care providers understand that massage is beneficial for health and wellness, overall demand will probably increase as these services become part of treatment plans.
Our goal at Penn Commercial is to prepare graduates to take advantage of these growing opportunities by positioning students to pass their certification exams and be ready to enter the field.
Massage therapists can work in an array of different places, such as:
Spas
Franchised clinics
Hotels
Chiropractic offices
Hospice care, hospitals
Fitness centers
Sports medicine facilities
They can also be self-employed, performing in-home massages at homes or offices or making appointments at their own homes. Data retrieved from the Bureau of Labor Statistics states that massage therapists held over 160,000 jobs in 2014, and about half of them were self-employed.*
Penn Commercial and Massage Therapy
At Penn Commercial Business/Technical School you will learn the skills necessary to succeed in a Massage Therapy career through specialized training and the help of skilled professionals.
To help students find job placement after graduation, our alumni and career services offer a variety of services like job fairs, career counseling, interviewing workshops, job listings, resume assistance, employment newsletters and externships.
Our alumni network can also be very helpful. You can find our former students working in different industries and achieving great success in their professional lives. This generates a great source of connections.
*http://www.bls.gov/ooh/healthcare/massage-therapists.htm#tab-1
Additional Massage Therapy Program Entrance Requirements
In addition to your high school diploma or GED certificate, entrance to the Massage Therapy program at Penn Commercial requires the following:
Ability to lift and carry up to 50 pounds
Physical requirements include standing, bending, and sitting
Clinical duties require a reasonable level of manual dexterity, lifting, standing and bending